1 Undershaft architect says London slowdown hits firm's numbers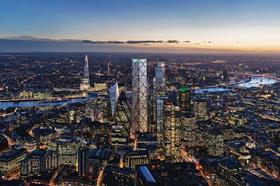 The architect behind the planned tallest building in the City of London has said a slowdown in projects sent the firm into the red last year, warning the situation would not improve by the time its next financial year closes in July.
Eric Parry Architects' 73-storey tower at 1 Undershaft (pictured) was given planning 18 months ago and will be close to 305m tall when built.
But the firm said a "slowdown in progress of some projects, together with a bunching of projects coming to completion during the year, has led to a reduction in turnover and profit".
Revenue slumped from £9.3m to £7.1m in the year to July 2017 with the firm plunging to a £44,000 pre-tax loss from a £877,000 profit in 2016.
It added the brakes had been put on the high-end residential market which had contributed to the falls and added: "While we have achieved some excellent planning permissions for London buildings, we have not been contracted to follow all of these through to construction stages and observe a concerning trend in this approach to development."
And it warned: "The uncertainties around Brexit continue to create a negative sentiment more generally and we foresee a more challenging market for the next financial year."
Last month, BD's sister magazine Building reported that the developer on Parry's £1bn Chelsea Barracks redevelopment had pulled the main contractor from the fourth phase of the job just days before it was due to start work on the £250m scheme.
In its results, Eric Parry added that an office it opened in Singapore back in 2016 had won its first large-scale building with a new headquarters building for food firm Wilmar. The office is also carrying out office refurbishment work at a scheme for developer Grosvenor Asia in Tokyo.