Meanwhile institute unveils Carmody Groarke refurb
The British Film Institute has said proposals to create a new £130m film centre on London's South Bank have been cancelled, bringing the project to an end after almost a decade of twists and turns.
Its International Centre for Film, TV and the Moving Image had been envisioned as "the final piece" in the development of the capital's South Bank Cultural Quarter.
With ex-OMA staffer Ole Scheeren as its project architect, it would have been built on the site of the former Hungerford Car Park, a short walk from the BFI itself, next to Jubilee Gardens.
It was due to feature a giant zoetrope, a camera obscura, and would have offered 2,000sq m of restaurant and café space – a key enabler for the project was an £87m private-sector funding offer for the project which required exclusivity over food and drink retailing.
Ojeu tender documents related to the project indicated that a planning application for the scheme was anticipated late last year, ahead of an opening in 2022.
However the BFI confirmed to BD that a decision not to proceed with the proposals was taken last month. It is believed that an inability to reconcile timescales for developing the project with the lease demands on the car park site prompted the move.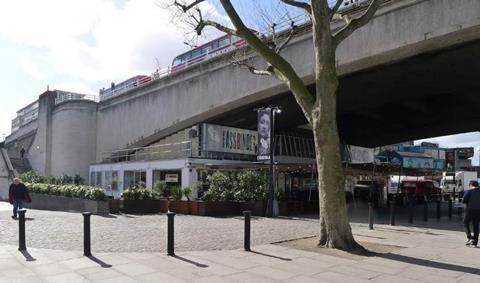 However it is progressing with plans by Carmody Groarke to refurbish its main building under Waterloo Bridge (pictured below).
In a statement, the organisation said: "The BFI is steadfastly committed to the culture of film and the future of the moving image, and we remain focused on the urgent and much-needed investment in our current home, BFI Southbank, planning to start in early 2018 with a major refurbishment project of BFI Southbank's Riverfront.
"We also continue to explore additional places where audiences, filmmakers, artists and storytellers can learn and experiment with this dynamic art form and where creativity, technology and innovation can flourish."
The BFI said it had always planned the new film centre as an addition to its current facilities, rather than as a replacement, and that refurbishment plans were being progressed at the same time as the new venue.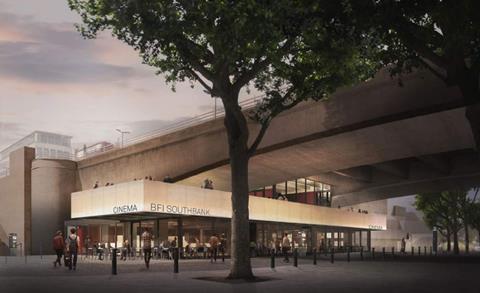 In November last year Carmody Groarke proposals for an extended restaurant and entrance area for the institute were approved by Lambeth council. The Riverfront scheme will also deliver a new external bar and roof terrace area.
Plans to expand the BFI's base on to the Hungerford Car Park site dated back to 2009, when then prime minister Gordon Brown offered to part-fund a new £90m film centre for which a design competition was launched. However the plan was sunk under David Cameron's coalition government.
The 2010 contest itself buried an earlier plan by David Chipperfield Architects.