Wolverhampton project to be largest built environment education centre in Europe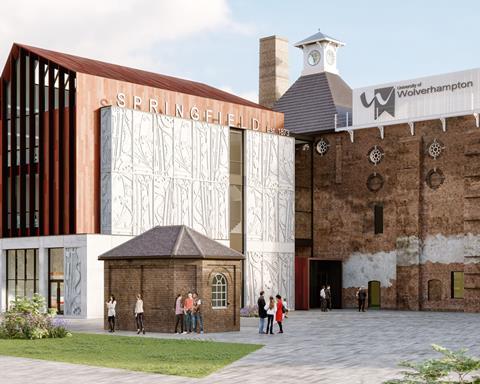 Associated Architects has designed a £26m school of architecture and built environment for the University of Wolverhampton.
Procured via the Pagabo Framework, the 86,000ft² school is set to be the largest built environment education centre in Europe.
It will be built around the former Springfield Brewery's clock tower.
A new-build three-storey steel frame structure will wrap around the existing tower, while the outer brick façade of the former brewery building will be retained.
The school will cater for around 1,200 students and 65 staff, with specialist laboratories, multi-disciplinary workshops, ICT suites, a lecture theatre and an upper level "super" studio.
It will also provide social learning and work spaces, a café, offices and meeting rooms.
The school underwent a re-design by the Birmingham-based architect, which led to a change of builder from Wates to ISG.