Birmingham practice commissions montage of major projects to celebrate 50th birthday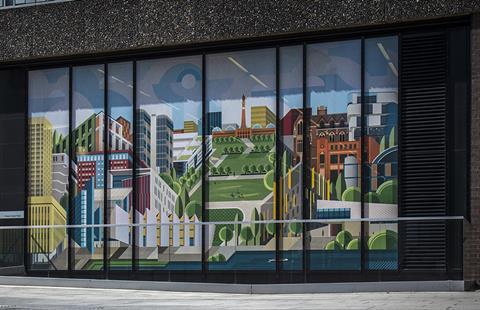 Birmingham-based Associated Architects has installed a new piece of artwork in the windows of its city-centre offices to celebrate the practice's 50th birthday.
The 7m x 4m piece by modernist-inspired illustrator Alexander Edwards, who works under the moniker "Brumhaus", brings together several of Associated's biggest works from its first half-century.
It is now on display at the practice's base in the Mailbox development – a repurposing of the city's former Royal Mail Sorting Office that Associated led the design of in the 1990s. The Mailbox development includes a range of shops and restaurants, 200 homes, a hotel, and the BBC's Birmingham base. It is one of the featured buildings in the montage.
Associated started life from small offices across town in the Jewellery Quarter, where it was founded by three tutors from the Birmingham School of Architecture. It now has a staff of 70.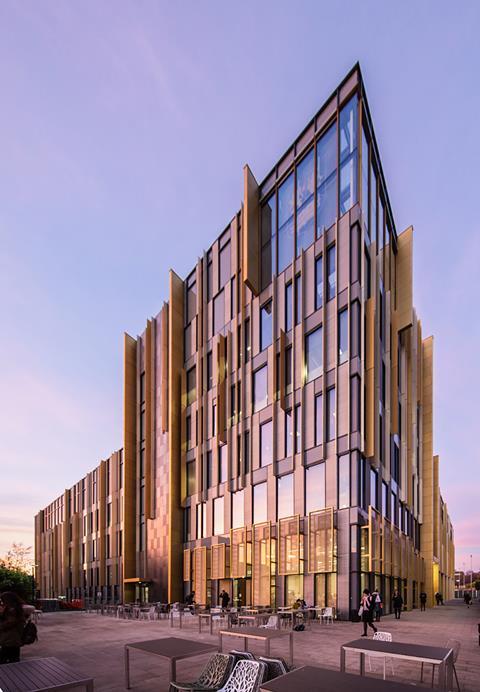 High-profile recent projects have included the University of Birmingham's £44m Main Library building, which opened in 2016; a new rehearsal space for the City of Birmingham Symphony Orchestra; the Staffordshire Hoard Gallery at Birmingham Museum and Art Gallery; and the £24m redevelopment of Birmingham Hippodrome, which won a RIBA Architecture Award in 2002.
Practice director Matthew Goer said 50 years was a "huge landmark" for any business to attain, particularly for architects "exposed to the vagaries of the economic cycle and its impact on the construction sector".
"The way buildings are commissioned, procured and designed, and who is involved in the process have all fundamentally changed since the heady days of the late 1960s," he said.
"The rapid advances in IT – and its seemingly ever-increasing cost – has had a profound influence on how we now work and what is expected of us."