Chair of Parliamentary design forum lambasts profession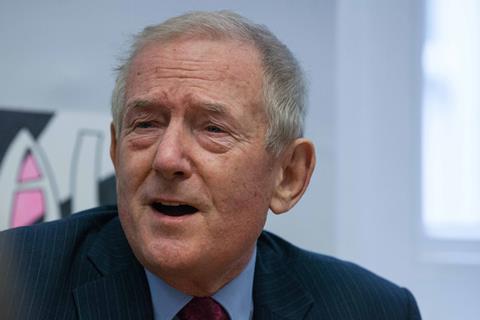 Architects have been accused of punching below their weight politically by the co-chairman of Parliament's all-party design forum.
The attack by Barry Sheerman, Labour MP for Huddersfield, comes days after David Chipperfield criticised architects for not making more noise about the threat posed to the profession by Brexit (see box below for RIBA's invitation to Chipperfield).
Sheerman turned on architects in the middle of an otherwise avuncular meeting of the All-Party Parliamentary Design and Innovation Group in the Palace of Westminster this week.
He said: "Architects are very smart and full of high principles but why are you so weak in your clout? Why aren't you stronger? Why do you punch below your weight?"
"Their fees are paid by builders and developers and you never bite the hand that feeds you," responded Simon Phillips, a director of property investment manager Mill Group Residential, and a member of the APPG.
His suggestion was dismissed as cynical by Sheerman and architect Annalie Riches. The Mikhail Riches director, who gave a presentation on designing communities, said Sheerman had a point about architects not making their voice heard, but that they were supposed to be impartial.
Charles Leon, a felow panellist and president of the British Institute of Interior Design, laid the blame at the door of clients and politicians, accusing them of a lack of faith.
He said: "Architecture is in a really great place at the moment but not enough people think it can deliver. There's not enough courage or trust in architects – even from councils, politicians or finance people.
"But architects can deliver and there are lots of great examples of great, cost-effective architecture. We don't have the right mindset to say let's go with new projects and new ideas."
Sheerman's outburst came after a RIBA staffer asked panellists what they would ask new housing secretary James Brokenshire.
Kaye Stout, a partner at Pollard Thomas Edwards Architects, said there was too much new policy and guidance – despite the coalition's famous "bonfire of red tape".
"I understand policy needs to change with the times and demographics but it doesn't feel very consistent," she said.
"There are curveballs coming from all over the place and it's really difficult for architects and clients to grasp it all.
"I'd ask the secretary of state, 'What's the longer-term aspiration you are trying to get out of this so we can anticipate what you'll be looking for in 15 years' time?'."
Leon made a similar criticism about short-term thinking in housing, adding: "Every five years it lurches and changes so I'd say, 'Let's sort something out that's much longer-term and isn't so politically influenced."
The panel was also asked about the single biggest impediment to tackling the housing crisis.
Stout flagged the "absolutely desperate" shortage of skilled construction workers, while Riches said it was affordability and called for a return to subsidised housing.
Chris Hildrey, director of Hildrey Studio and designer in residence at the Design Museum, said: "The big constraint is commodification of everything including land – so people sit on land – and housing – so they are not homes but investment opportunities."
RIBA president invites Chipperfield for Brexit talks
RIBA president Ben Derbyshire has invited David Chipperfield to lunch to discuss the institute's response to Brexit.
Derbyshire tweeted: "I am glad #DavidChipperfield shares my concern over #Brexit. As he lives just a few doors up the street from HQ @RIBA I have invited him to lunch so we can discuss how he might help get the right outcomes for #Talent #Trade & #Transition."
He was responding to BD's coverage of Chipperfield's open letter to the profession in which he accused architects and the RIBA of failing to stick their heads above the parapet - "which is surprising given that architects still believe our role involves a profound engagement with societal issues".
"Can we imagine previous generations of architects being so quiet about an issue that will have such an important role in defining our future and what type of society we want?" he wrote.
He asked why no one was attempting to articulate a vision of the Britain we want after we have left the EU.
"Is this not our challenge? Should we not all speak up and hold their feet to the fire?"
Derbyshire issued a statement in response, saying: "Sir David Chipperfield's memo to the RIBA raises several important issues that face our profession post-Brexit and I look forward to discussing these with him in person. We share Chipperfield's concerns about the lack of clarity from the government and the impact this uncertainty is having on architects in the UK – particularly those from the EU who make such a valuable contribution to the success of UK architecture.
"Since the Brexit vote, the RIBA has had well over 100 meetings with secretaries of state, ministers, parliamentarians and senior civil servants. In addition, we have published six impactful reports, worked closely with other professional bodies to develop a series of shared priorities and facilitated a roundtable with RIBA members and the Migration Advisory Committee.
"I am delighted that we have secured the unanimous support of the Architects Council of Europe for the RIBA's motion calling for the continuation of mutual recognition of professional qualifications between the EU and UK.
"We are pleased that some of the biggest issues identified are now on the agenda of both the UK and EU negotiating teams – including mutual recognition of professional qualifications. We have also been clear that the UK government needs to seek new agreements with priority markets in the months leading up to our exit.
"At this critical time, as the UK prepares its departure from the EU, the RIBA is focused on securing the best possible deal for its members post-Brexit.
"It is more than 40 years since the Monopolies and Mergers Commissioned banned the RIBA from publishing mandatory fee scales, and current legislation bans professional bodies including the RIBA from providing recommended or indicative fee scales on competition grounds. I know that RIBA members have mixed views on the merits of fee scales, but the stark reality is that legally and politically they are a non-starter. Raising fees and restoring the prestige of our profession is at the heart of my work as RIBA President.
"As a membership organisation RIBA relies to a great extent on the contribution of its members. Sir David has contributed much to this effort already. I look forward to discussing what more we can do together to improving the status and influence of the profession."