Further practices on framework for future phases of Essex project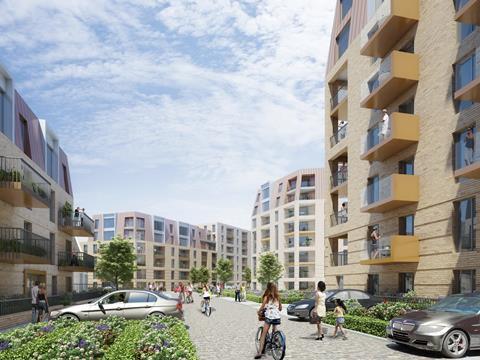 JTP, Conran & Partners and BDP have been handed roles on the first phase of a £1bn regeneration scheme in Havering, on the east London/Essex border.
Other practices have been appointed to a framework for future phases of the Havering and Wates Regeneration, which is being developed by a joint venture between Havering council and Wates Residential.
It will see four sites across the borough regenerated to provide hundreds of homes for local people.
In March, the council announced a £1bn contract and joint venture with Wates Residential, which will see 12 council estates regenerated to provide around 3,000 homes over the next 12 years.
Phase one will include the Waterloo Estate (pictured) and Queen Street in Romford, Serena Solar and Sunrise Courts in Hornchurch, and Napier House and New Plymouth House in Rainham.
JTP and Conran & Partners are the architects, with BDP doing the landscaping. They have been appointed to work throughout the planning process.
Residents in Havering will be encouraged to provide feedback on possible designs for phase one throughout July.
Three architects – Pollard Thomas Edwards, Hawkins Brown and Hunters – have also been appointed to a framework for phases two and three of the scheme, which will include eight sites across Romford, Hornchurch and Gidea Park. They are currently undertaking feasibility exercises.
The project will double the amount of affordable homes on the 12 estates and increase council-rented accommodation by 70%.