Architects working on other phases of £1bn regeneration include Conran and JTP
Havering council has approved Sheppard Robson-designed proposals that will regenerate a chunk of Romford town centre with 620 new homes and new commercial space.
Valued at £250m, the scheme covers a 2.9ha site south of the town's main train station and was drawn up for Affinity Rom Valley, which is a subsidiary of Affinity Global Real Estate.
The project is part of a wider £1bn social housing regeneration planned by Havering council involving 3,000 homes across 12 sites. Conran & Partners, with Wates, and JTP are working on the first phase which is due to start on site late next year.
Part of Sheppard Robson's development site housed the town's former ice rink, which closed in 2013. A replacement facility designed by Saunders Boston, the £28m Sapphire Ice and Leisure Centre, opened in the town earlier this year.
Sheppard Robson's proposals would deliver the homes in 11 blocks that range from four to eight storeys in height, along with 830sq m of retail space – earmarked for the delivery of a new local supermarket. A doctor's surgery, gym and café are also part of the plans.
Practice partner Alan Shingler said the the scheme's design used a variety of red and buff brickwork, as well as a range of façade details, to create a "family" of buildings that were clearly related but which had "subtle variations" in character and contextual response.
"The project is part of the emerging regeneration to the south of Romford Station, with this latest project signalling the ambition to foster a high-quality, residential community," he said.
"The proposals are given a civic quality through the inclusion of a sequence of generous green spaces that help this large project mediate between public and private spaces."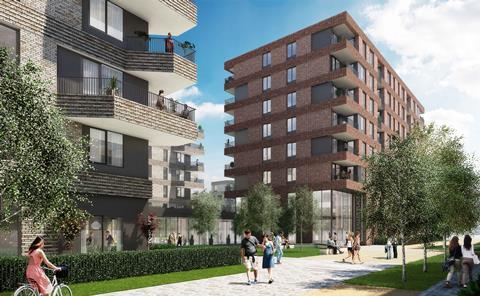 A report to members of Havering council's regulatory services committee, which approved the scheme at their last meeting, said that despite being in one of the mayor of London's housing zones, the project would deliver just 11% of affordable housing.
The report noted that the Greater London Authority had expressed concerns over the 11% level. The proportion is significantly lower than the 22% affordable housing level envisaged by the GLA for the 3,304 homes predicted to be built in the Romford Housing Zone.
Because of the scheme's size, Havering's approval requires Khan's ratification.