John Priestley set to report on architectural design issues at tower's refurbishment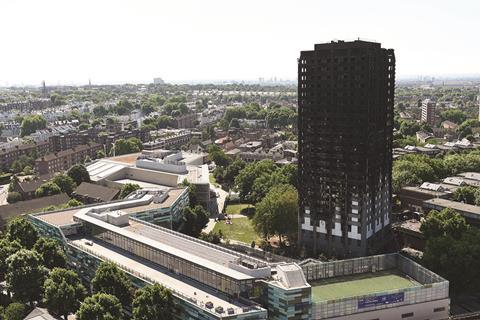 The Grenfell Tower Inquiry has appointed an architect to its panel of expert witnesses, each tasked with offering top-level professional insight on issues that formed the backdrop to the tragedy.
John Priestley is set to produce a report "considering aspects of the architectural design in relation to the refurbishment" of the tower, which was conducted between 2014 and 2016, and which saw new windows installed and cladding added to the previously un-clad structure.
The inquiry team said Priestley's work would include "choice of materials; the development of the design; compliance with legislation and regulations; and the quality of the workmanship".
Seventy-two lives have been lost as a result of the fire, which took hold of the 24-storey building on June 14 last year, spreading with the aid of combusible cladding attached to its exterior.
Priestley, is a former partner in the practice Crocker Tooth Priestley and founded his current firm John Priestley Associates after a spell as a director at Navigant Consulting.
His company website says he has been giving expert evidence in construction disputes since 1985 and that the business counts local authorities and government agencies among its clients.
Priestley joins 12 expert witnesses currently listed by the inquiry, which is being led by former Lord Justice of Appeal Martin Moore-Bick.
Earlier this month a barrister representing survivors of the tragedy and the relatives of victims described key firms involved in the refurbishment of Grenfell Tower as "inhumane" for failing to be more open about the work they undertook at the block, and whether it complied with regulations.
Stephanie Barwise QC said the firms – including design-and-build contractor Rydon, architect Studio E, and subcontractors and suppliers – had adopted a disingenuous and unconstructive stance toward the inquiry.
"These contractors should not be allowed, by their deliberate refusal to participate, to derail determination of the compliance issue, even though we are concerned with blatant non-compliance," she said.
"It is inhumane to remain silent when so many seek understanding and answers, answers which are within the corporates' gift."