Former accountant replaces Gavin Barwell at Department for Communities and Local Government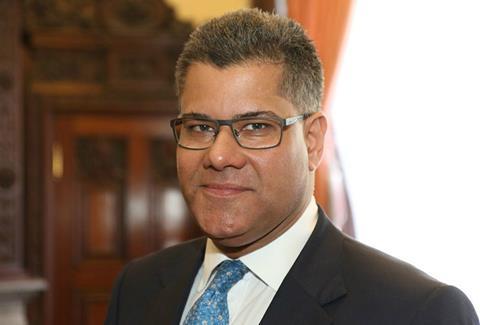 New housing and planning minister Alok Sharma
Reading West MP Alok Sharma has been named as the new housing and planning minister after Gavin Barwell lost his seat in last week's general election.
Qualified accountant Sharma entered parliament in 2010, and served as a junior minister at the Foreign & Commonwealth Office from July last year.
The brief he inherits included architecture under Barwell, a situation likely to continue. Last night the Department for Communities and Local Government website described him as "minister of state" but said his role and responsibilities would be "confirmed in due course".
Barwell spearheaded work on the previous May administration's housing white paper, which was launched earlier this year and contained a range of measures aimed at alleviating the housing crisis.
However the plan junked David Cameron and George Osborne's 2015 manifesto pledge to deliver 200,000 afforable homes for under-40s to buy at prices capped at £450,000 in the capital and £250,000 elsewhere – a U-turn that attracted surprisingly little attention in the snap-election campaign.
On Sunday Barwell became prime minister Theresa May's chief of staff after the resignation of Fiona Hill and Nick Timothy. That evening May referred to demand for new housing in at least one broadcast interview.
The architecture and construction sector will have to wait until the publication of the minority government's Queen's Speech to see whether any new legislation will be attempted to alleviate the shortfall in delivery of new homes.
Over the past decade new minister Sharma has campaigned to secure infrastructure investment for his constituency, including the extension of Crossrail services to Reading from the project's original western terminus of Maidenhead.
He has also fought controversial local housing proposals, including plans for 750 new homes on a greenfield site known as Pincents Hill, a scheme rejected by then-communities secretary Eric Pickles in 2011.
In 2010, Sharma gave his backing to residents campaigning against proposals to build 96 homes at Thames Water's Bath Road Reservoir site.
A planning inspector subsequently upheld Reading Borough Council's rejection of the scheme, which involved the conversion of a grade II-listed water tower.
A revised scheme delivering 78 homes – 10 of them in the water tower and pump house – has gone ahead.
Sharma's website says he is "committed to campaigning against any unsustainable development across Reading West".
His new brief requires him to oversee the National Planning Policy Framework's "presumption in favour of sustainable development".