Piercy & Co and Niall McLaughlin also working on buildings on supermarket site
Allies & Morrison has won planning for a 3.3ha regeneration project including a "rooftop farm" close to the centre of Camden Town.
Camden Goods Yard has been masterplanned by Allies & Morrison and will contain eight individual buildings which are being designed by the practice as well as by Piercy & Company and Niall McLaughlin Architects.
The project, on the site of a car park, petrol station and branch of Morrisons on Chalk Farm Road, will include 573 homes, a re-sited supermarket, 1,000sq m of workspace – and London's largest urban farm.
The scheme, which is being developed by Barratt London and Morrisons, will features buildings up to 14 storeys tall. The homes will vary in size and tenure, with 40% "affordable".
The new neighbourhood will be car-free and contain five new public spaces with children's play areas, as well as a future safeguarded link towards Camden Lock and the grade II* Robert Stephenson's historic winding vaults which are partially underneath the site.
The design proposals draw on the Goods Yard's varied context, from the conservation areas of Primrose Hill to the warehouse character of Camden Market, said Allies & Morrison director Hendrik Heyns.
"The goal has been to transform an isolated site into a place with a Camden character, an enduring, polychrome piece of London," he added.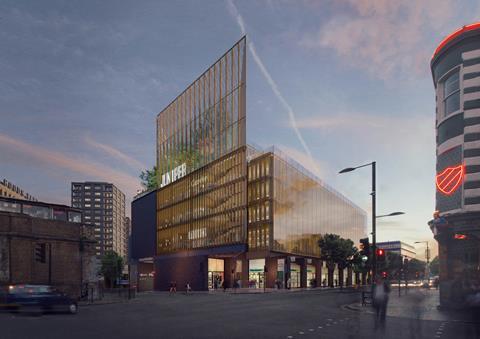 Stuart Piercy, director of Piercy & Company, said: "We were inspired by the powerful silhouettes and texture of Victorian industrial forms to create new buildings that are both functional and delightful.
"Camden has many layers of historic industry. This strata of underground railway winding vaults, canals and viaducts are reflected in the vertical composition of our buildings, their wide landscape format bays and, in particular, how they meet the ground."
Piercy & Co is designing the tallest building, block A, with dark brickwork bands and large pillars of cast terrazzo in contrast to its other block, E1, which will have white brick facades.
Niall McLaughlin is redesigning the filling station to incorporate workspace, cafés and retail, plus a winter garden with shop units along Chalk Farm Road placed between heavy brick piers with riveted steel beams above, referencing the language of the "Great Wall of Camden" that once stood in its place and the historic industrial structures nearby.
The rest of the buildings are being designed by Allies & Morrison, including the central block B which will contain the supermarket beneath two floors of commercial space and five floors of flats arranged around a central courtyard and topped by the farm and a series of pitched roof greenhouses and a signature sign. White polished concrete and glazed bricks and tiles at ground and first-floor level will give way to buff stock bricks.
Landscaping is by Gillespies.