Architect to refurbish entire city block despite approval for demolition-led scheme
Barr Gazetas has won planning permission for a conservation-led regeneration scheme for an entire city block in London's Covent Garden, superseding earlier proposals from Piercy & Co.
The latest scheme for the site – enclosed by Drury Lane, Dryden Street, Arne Street, and Shelton Street – combine four existing buildings to provide 2,130sq m of flexible retail and restaurant space at ground-floor and basement level with 6,130sq m of office space above.
Barr Gazetas said its design, created for Diageo Pension Trust, drew on the industrial heritage of the block, "sensitively restoring many of the original features, while bringing in a highly contemporary element in the form of an extension constructed from CLT panels".

The practice said existing third, fourth and roof top floor structures would be removed, and an upward extension would create a five- and six-storey building, with rooftop plant enclosure and terraces.
The site already has planning permission for what Barr Gazetas described as a "demolition-led" redevelopment that would deliver 68 homes with ground-level restaurants and retail. Piercy & Co won consent for that scheme from Westminster council in 2016 despite heritage concerns.
However it failed to get approval for a subsequent scheme – drawn up for Helical Bar – that would have delivered 9,345sq m of office space across its upper five floors and 1,540sq m of retail space.
Barr Gazetas managing director Jon Eaglesham said that while the earlier redevelopment proposals had attracted local opposition, the practice's just-approved scheme had been more warmly received.

"We approached this project with an open mind, ready to listen to and engage with the community and wider stakeholders," he said.
"Through careful tailoring of the designs we have achieved a thoughtful, conservation-led project which will provide the highest quality office and retail space inside the refurbished fabric.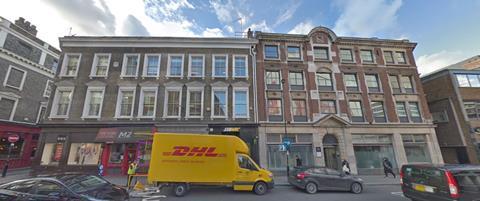 "We look forward to progressing the project on site and ensuring that the integrity and confidence of our designs, including a bold extension, provides exemplary architecture for the neighbourhood"
.Eaglesham said he expected the project to complete in 2021.