Winning architect invites rival from defeated team to join it on £30m restoration of fire-gutted mansion
Allies & Morrison has won the National Trust competition to restore and rebuild Clandon Park, the Palladian mansion that burnt down in 2015.
The architect beat a strong shortlist featuring Amanda Levete, Sergison Bates, AOC, Donald Insall Associates and Diller Scofidio & Renfro and Sam Jacob.
Allies & Morrison has invited Purcell – which was leading one of the other shortlisted teams with Jacob – to work with it as conservation architect on the £30m project.
The jury praised the winning team's "bold yet balanced" approach, to respect the quality and character of the mansion house in its historic setting. It said the team's submission was a clear and thoughtful proposal, which balanced continuity and cohesion with an appropriate level of drama and excitement.
The proposed concept is at an early design stage and Allies & Morrison will now work closely with the National Trust to develop a final design and a detailed feasibility study ahead of consultation.
Clandon Park is a grade I-listed Palladian house in Surrey which was built in the early 1730s to a design by Venetian-born architect Giacomo Leoni. It was gutted by fire in 2015 but the brickwork survived and significant portions of plasterwork and other fabric were salvaged from the ashes.
Jury chair Sandy Nairne, former director of the National Portrait Gallery, said finding the right architect was a very significant milestone in Clandon Park's history.
"The jury's unanimous selection of Allies and Morrison was a result of their sensitive response to the brief, which matches the National Trust's commitment to doing what's best for the mansion, its surviving interiors and the wider estate," he said.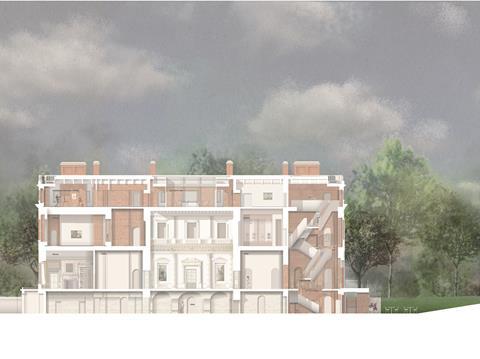 Paul Appleton, partner at Allies & Morrison, said: "Our approach is about balance; meticulously reinstating historically significant spaces while in others exploiting the extraordinary character of massive brick walls. New floors and ceilings are slotted into this robust matrix to re-order and to redefine, but only just as much as is needed to create timeless spaces without erasing the marks of time.
"From a restored Marble Hall, through the series of grand rooms on the principal floor, to a soaring new space connecting the lower ground floor to a new roof terrace, each element plays its own particular part.
"It is hard to imagine an architectural project which bears more directly on the question of how we respond to our heritage. We feel enormously privileged to work with the National Trust to unfold the story Clandon Park has to tell and to begin, together, to weave plans for its future around the extraordinary evidence of its past."
Paul Cook, project director for Clandon Park, said they were "incredibly impressed" with the quality of all 60 entries.
The competition was organised by Malcolm Reading Consultants and the jury included David Bickle, the V&A's director of FuturePlan, Ben Bolgar, senior director at the Prince's Foundation for Building Community, and Ptolemy Dean, architect and surveyor of the fabric at Westminster Abbey.