Images revealed as BBC announced as new tenant at Olympic cultural quarter
London mayor Sadiq Khan has revealed revised designs by Allies & Morrison and O'Donnell & Tuomey for Stratford Waterfront's "cultural quarter" and announced the BBC as the latest addition to the roster of new occupants.
The broadcaster is set to relocate operations from its legendary Maida Vale Studios complex to Stratford Waterfront from 2022-23 as part of the development dubbed Olympicopolis by Khan's predecessor Boris Johnson but now referred to as "East Bank".
The BBC will occupy the Allies & Morrison-designed building once earmarked for the Smithsonian Institution, sitting alongside a new Victoria & Albert Museum outpost and a 550-seat Sadler's Wells theatre and 600 new homes.
The building designs unveiled today for the waterfront have been completely redesigned by Allies & Morrison, O'Donnell & Tuomey, and Camps Felip Arquitecturia following detailed public consultation that raised fears over the height of the scheme's residential towers, which were originally up to 47 storeys.
The latest version of the scheme has four blocks of 26 storeys, the northernmost of which is designed by O'Donnell & Tuomey and the remainder by Allies & Morrison.

Khan's office said O'Donnell & Tuomey's design for the new V&A base had been "inspired in part" by the work of the Spanish fashion designer Cristóbal Balenciaga.
"As with Balenciaga's creations, the outer skin of the new building will act as a three-dimensional 'folded dress', lending the museum a distinctive form and striking identity," it said.
Khan said the latest incarnation of the Stratford Waterfront plans drew on the success of central London's South Bank.
"Great cities are defined by their ambition as much as their achievements – East Bank is the most ambitious new project of its kind for decades," he said.
"I have made culture, innovation and growth a top priority, and as London's centre of gravity extends east, I'm delighted that we're placing culture and education at the heart of this development and the Olympic legacy.
"My vision for East Bank is one where everyone, regardless of their background, can access world-class culture and education on their doorstep. East Bank is a fantastic collaboration of inter-disciplinary work and world-class institutions that will drive forward growth and inspire more young Londoners to take up creative careers, transforming the communities of east London."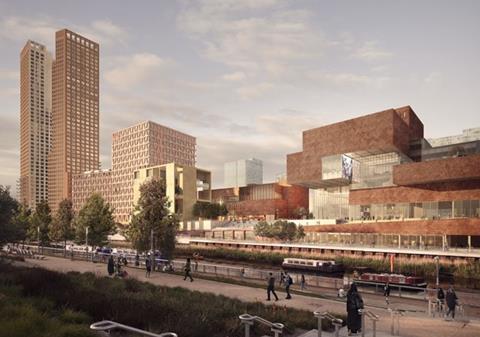 BBC director of radio and education James Purnell said the new BBC complex would incorporate state-of-the-art music recording and rehearsal studios and provide a purpose-built base for the BBC Symphony Orchestra and Chorus and the BBC Singers, and would enable the BBC to record and broadcast more live music than ever before.
"This proposed new building will act as a magnet for music development in east London and will allow us to share our music facilities and expertise with local, diverse communities as well as being a much better place for our brilliant music staff to work from," he said.
The building that houses Maida Vale Studios - which will be shut - was built in 1909 as a roller skating venue. The BBC took it over in the 1930s and refurbished it to serve as studios, making it one of the broadcaster's oldest buildings. It was also the centre of the BBC News operation during World War II.