Stanton Williams and Lifschutz Davidson Sandilands schemes set for approval
Detailed designs for the first phase of University College London's huge new campus in east London are set to be approved by the London Legacy Development Corporation.
Papers published ahead of the next meeting of the LLDC's planning committee, scheduled for March 26, recommend consent be granted to the campus' two lynchpin blocks, designed by Stanton Williams and Lifschutz Davidson Sandilands.
The Stanton Williams block, earmarked for a plot near Anish Kapoor and Cecil Balmond's ArcelorMittal Orbit sculpture, will deliver 34,680sq m of new academic space and 320sq m of retail space in a new part 10-, part 11-storey structure.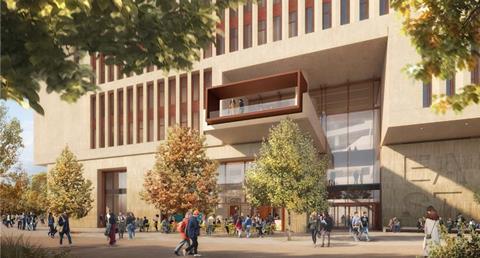 Documents published ahead of next week's meeting say the structure – named UCL East Marshgate I – will feature a publicly accessible "fluid zone" extending over two floors, with the ground floor incorporating a large café, opening on the eastern frontage and linking through to the atrium and workshops for UCL's "Institute of Making Big".
"The main building form would use in-situ concrete at the lower levels and pre-cast sections on the upper levels," the LLDC report said. "Internally there would be bridges connecting different parts of the building at first- and second-floor level around the atrium and the proposed cladding material for these would be weathering steel.
"The same steel would be used to line openings into the building and around the public stair and lift to the first floor and polyester powder-coated steel or aluminium glazing frames throughout the building is proposed to colour-match the weathering steel."
The Lifschutz Davidson Sandilands scheme, named Pool Street West, would primarily deliver student accommodation in a development featuring a 20-storey tower and a 16-storey tower with 5,399sq m of new academic space.
According to the report, the development would feature a total of 524 "study bedrooms", grouped in clusters of eight, nine or 11 rooms with shared living space. Its shared living space would be located at the ends of floors, delivering spaces with 180-degree views.
According to the LLDC planning officers' report, the building's academic space would be spread over its lower three floors while there would be "an extensive terrace" with public access at third-floor level.
The UCL East proposals, landscaped by LDA Design, won outline planning consent last year.