Duggan Morris also working on British Land project masterminded by Roger Madelin, the man behind Argent's King's Cross revamp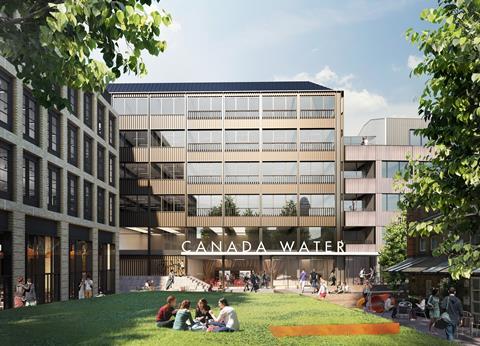 British Land has submitted Allies & Morrison-masterplanned designs for its £3bn Canada Water scheme to Southwark council.
The developer, which has also entered into a development agreement with the council, has submitted an outline planning application for the 53-acre masterplan, and detailed planning application for the project's first three buildings - one of them designed by Duggan Morris. The public realm aspect of the masterplan was the work of Townshend Landscape Architects.
These three buildings - which include workspace, 250 homes, around a third of which will be "affordable", and a new leisure centre - are part of a major first phase of the development, which has a value of more than £700m.
The first phase covers 1.8m sq ft of mixed-use space, comprising a million sq ft of workspace, 250,000sq ft of retail and leisure space and 650 homes.
Two of the first buildings to be built, one of which includes the leisure centre and another a mixed-use building that includes a 35-storey residential tower, were designed by Allies & Morrison, while the third was designed by Duggan Morris.
British Land is planning to break ground on the first three buildings in spring next year, with a decision on planning expected by the end of the year.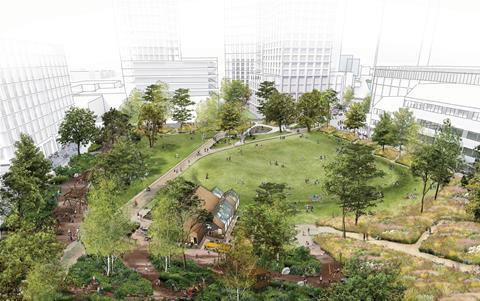 Roger Madelin, the man responsible for bringing forward the redevelopment of King's Cross for Argent and who is now heading the Canada Water development at British Land, said the size of the first phase showed a commitment to the project.
He said: "Our first phase is as big as what has been brought forward at King's Cross so far. We are committed to the project.
"Submission of our planning application for the Canada Water masterplan marks an important milestone in the delivery of this project.
"Drawing on our experience of creating vibrant, mixed-use places across the capital, this major urban centre at Canada Water will provide an exciting place to live, work and visit, delivering high-quality design, active spaces and significant economic and social benefits for the local community."
The wider masterplan is expected to deliver up to 3,000 new homes, two million sq ft of workspace and a million sq ft of retail and leisure space.
The site includes Surrey Quays Shopping and Leisure, the SE16 Printworks, where the Daily Mail was printed, the Dock Offices and the former Rotherhithe Police Station.
The Printworks is currently being used as an events space with capacity for 5,000 people, with the developer looking into the possibility of keeping at least part of the building as an events space permanently.