Practice channels Brunel, Prouvé and Chareau for British Land development
Allies and Morrison has cited engineer Isambard Kingdom Brunel, and French architects and designers Jean Prouvé and Pierre Chareau as key influences for its new west London office block.
The practice said its just-completed Four Kingdom Street building had drawn inspiration from Paddington Station, designed by Brunel, and the nearby Westway elevated expressway.
Designed for British Land on the site of a former railway goodsyard, the block delivers 12,800 sq m of office space across nine floors, along with retail space and new public areas. The building has a total of 14 levels.
An abstract, glazed triangular form projects outwards on its western side, enclosing a series of stacked meeting pods.
Allies and Morrison partner Alex Wraight said the building's concept had drawn on industrial and Modernist references at the same time as striving to "enhance the otherwise conventional typology" of 21st Century high-grade office buildings.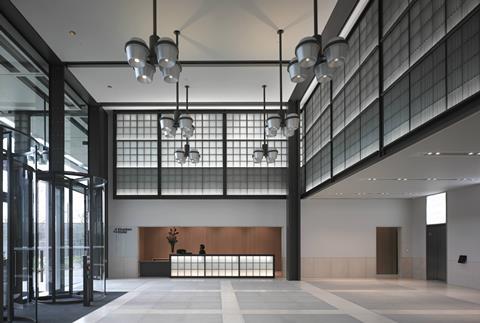 "We set out to create a building appropriate to the scale, toughness and permanence of Brunel's Paddington legacy and the Westway," he said.
"Jean Prouvé and Pierre Chareau provided invaluable instruction as to how that aim could be interpreted at a human scale.
"But we also wanted to create a fun, healthy and relaxed building where the outside is always accessible and occupiers will interact and socialise."
The development is valued at £64.8m by project manager M3 Consulting.
Allies and Morrison is currently working up designs for the neighbouring 5 Kingdom Street.