£75m listed newspaper office scheme to be named after vendors' cry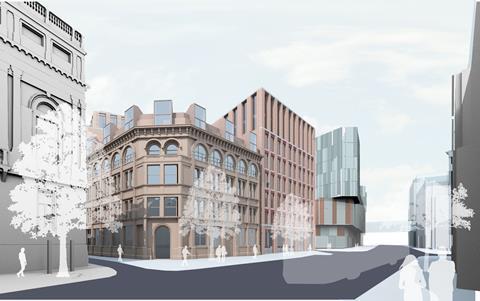 AHMM has submitted plans for a £75m regeneration in Belfast in which it will reprise the running track from the top of the White Collar Factory and its scrapped Google headquarters.
It plans to refurbish the listed former headquarters of the Belfast Telegraph, the 1886 Seaver building and to redevelop the rest of the city centre site.
This will see 230,000sq ft of workspace created across seven floors, with a public atrium and walkway on the ground floor, alongside retail. The roof will contain a running track, terraces and break-out spaces.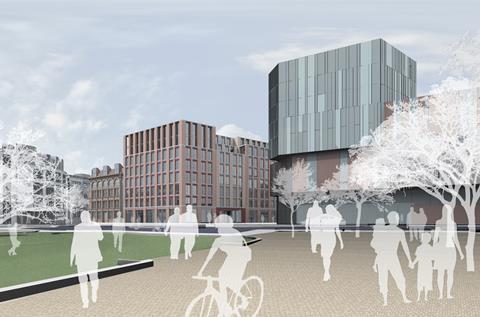 The project is called The Sixth, inspired by the newspaper vendors' cry, "Sixth Late Tele" as they sold the evening edition. This was a familiar cry throughout Belfast for more than a century.
Paul Monaghan, founding director of AHMM, said: "The Sixth is a bold project, focused on the experience of its users and mindful of the site's landmark status and importance as part of Belfast's built heritage.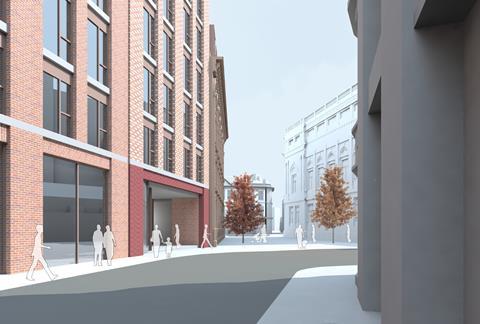 "We have taken cues from the surrounding buildings and the city's lost Victorian arcades, and will restore features removed or lost from the original listed building. For example, we're planning to reinstate the building's main access on to Royal Avenue and re-introduce dormer windows removed from the original roofline."
He predicted the scheme would contribute to the rapid regeneration of the area which is close to Ulster University. It would be at the centre of an emerging creative district serving the education, culture, media and technology sectors, he added.