Practice triumphs in fray for Sharjah's 'Central Hub' complex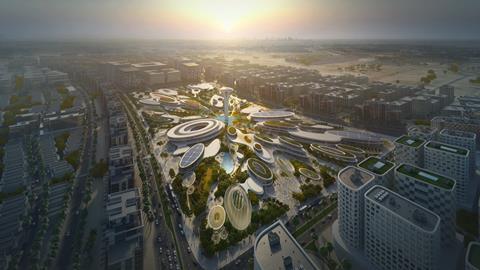 Zaha Hadid Architects has won the competition to design the centrepiece of a mixed-use development in the United Arab Emirates city of Sharjah.
Developer ARADA said the practice's proposal featured an array of elliptical buildings designed to channel prevailing winds into civic spaces and courtyards to facilitate cooling during the summer months, and had been conceptualised on the theme of a water droplet striking the earth's surface.
The central observation tower is surrounded by vibrant public squares with water features irrigated by recovered and recycled water. Tensile canopies sustain a microclimate at ground level for verdant gardens of species native to the region.
The so-called Central Hub will provide 176,500sq m of new space at the heart of the AED24 bn (£4.71 bn) Aljada development.
As well as shops and restaurants, the first phase will include an adventure activity zone, a food market and outdoor events spaces.
ARADA chairman Sheikh Sultan bin Ahmed Al Qasimi said: "While all of the companies in this design competition offered outstanding designs, Zaha Hadid Architects' integrated design approach matched our vision for Aljada's Central Hub as an interconnected destination."
Tariq Khayyat, ZHA's regional head for the Middle East, said the practice was proud to have been picked for the project.
"Applying all our knowledge and experience in creating some of the world's most popular civic spaces, we look forward to working closely with ARADA to foster Sharjah's public realm in delivering Aljada's Central Hub," he said.
The practice said the project would be delivered in phases beginning in 2019, and targeted for full completion by 2025.
CH2M has been awarded the infrastructure design contract for the project.