Established in 2004, Bell Phillips Architects has a diverse portfolio built around a strong core of affordable housing projects
Practice statement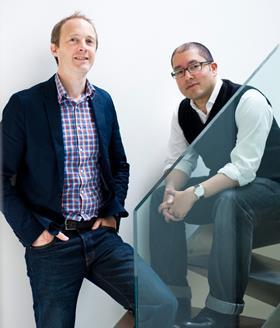 Tim Bell and Hari Phillips established Bell Phillips Architects in 2004 after winning a design competition to regenerate the Brooks Road Estate in Plaistow, Newham. This £8million project was completed last year having dramatically improved 230 post-war homes and immeasurably raised the quality of life for many hundreds of people in a deprived area of London.
Following this first project we have established a diverse portfolio built around a strong core of affordable housing projects. Whilst UK housing is much-maligned and constrained by procurement rules, low budgets and low aspirations we have delivered projects that have set new standards of quality and sustainability, and challenged pre-conceptions of public housing.
In many ways the practice's affinity with the housing sector encapsulates the pre-occupations of the practice; urban renewal, working with communities, using creativity to extract maximum value from challenging briefs and improving people's quality of life through design.
We are passionate about following projects through to completion and unusually for a young practice we have delivered a large portfolio of built work. For us this is essential. We want to see our skills deliver tangible benefits to people in real need. We place value on being a small, enthusiastic, close-knit team and foster a working environment that values openness, collaboration and full participation in the design process.
We are currently working with the Bermondsey Neighbourhood Forum (Hari is Vice-Chair) on the production of their neighbourhood plan. The forum is one of the first wave of front-runner forums and is developing a plan that balances the pressure for growth with the aspirations of the local community.
Alongside a number of housing schemes we have a burgeoning and increasingly diverse workload that includes a golf clubhouse, refurbishment work on the French Embassy, Gasholder No.8 at King's Cross and the practice's first school commission.
Bell Phillips Architects
Block K
175 Bermondsey Street
London SE1 3UZ
Principles: Tim Bell, Hari Phillips
Set up date: April 2004
Practice size: 6 staff
Website address: www.bellphillips.com
Projects
Heron Court
Thamesmead SE28

Thamesmead is perhaps best known for providing the backdrop to Stanley Kubrick's 1971 dystopia A Clockwork Orange. Whilst the post-war new town is much maligned and undoubtedly has intrinsic structural failings, in reality much of the area is leafy and interspersed with a network of drainage canals,and lakes that are required to manage the water table in this low-lying area.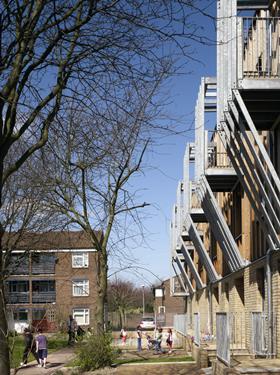 In 2006 we were asked by Gallions Housing Association to consider options for an existing sheltered housing block. The building was dilapidated and virtually vacant.
The resulting building takes advantage of the attractive site located on a bend in the canal and surrounded by extensive mature trees. The design comprises two buildings which fan out from a pivot point at the north end of the site to create a private south-facing courtyard with views of the mature trees and canal beyond. The lower, longer western block contains the adjacent communal garden whilst the taller eastern block anchors the development to the apex of the canal.
The new development provides rent-to-homebuy and social rented dwellings comprising 1 and 2 bedroom flats on the upper levels and 3-bedroom maisonettes accessed at ground level.
The design is a direct response to the site's location in the flood plain with a robust masonry plinth and concrete frame on the ground floor giving way to timber cladding and lightweight steel frame on the upper floors. Vertical modulation of the timber cladding is carried through to the galvanised steel balconies and walkways to give the building a distinctive aesthetic inspired by the filigree branches of the surrounding trees.
Maximum value has been extracted from carefully selected and well-researched proprietary products resulting in a distinctive, cost-effective and highly considered response.
Location: Thamesmead, London SE28
Client: Gallions Housing Association
Completion date: February 2010
Contract value: £2.3million
Project Type: Completed
Sherwood Terrace
Beckton E16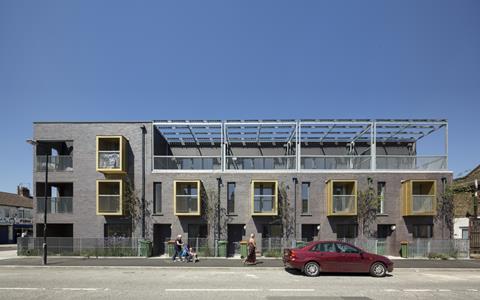 These dwellings are the first to be constructed by Newham for over thirty years. Won through a two-stage design competition the development seeks to set a benchmark for the design of new housing in the borough.
The 3-storey building comprises 6 new dwellings; 4 terraced houses and 2 flats, on a compact site. The units have been built to achieve Code For Sustainable Homes Level 5 and to provide outstanding amenity for residents.
On an extremely tight site the living rooms are situated on the top floor giving on to generous south-facing terraces with excellent views towards the docks.
In order to achieve an exceptional level of sustainability within a modest budget the focus has been on using low-tech, robust products that will ensure longevity and ease of use/maintenance;
Internal layout arranged to maximise solar orientation and solar gain.
Highly insulated and airtight building envelope (2.5m3/m2/hr, compared to Building Regulation requirement of 10m3/m2/hr).
Photovoltaic panel array over the roof, projecting over the roof terrace to provide a brise soleil.
Green roof.
MVHR system to minimize heat-loss.
Domestic grey water recycling system.
Smart meters for residents to monitor overall energy consumption.
Each dwelling will save 1800-2000Kg per annum of CO2 and 75litres per day of water compared to the same dwellings constructed to CFSH Level 3/Current Building Regulations.
The Energy Performance Certificates give the dwellings a maximum performance of 100 and notes that the dwellings will produce -0.3tonnes of CO2 per annum compared to a typical household which generates 6 tonnes per annum. For a typical dwelling the calculated TER is 16.89 compared to a DER of -1.19.
Location: Beckton, London E16
Client: Newham Council
Completion date: May 2012
Contract value: £1.15 million
Project Type: Completed
Gasholder No.8
King's Cross N1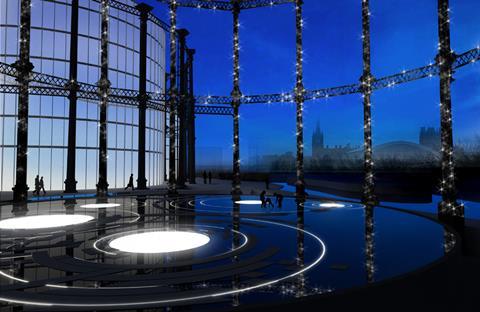 Selected as the winning submission from over 80 entries in a two-stage international design competition, this design will see the Grade II Listed Gasholder No.8 at King's Cross dismantled, refurbished, relocated to a site adjacent to the Regent's Canal and remodelled as a public open space.
Inspired by the vast scale and majesty of the Victorian Gasholder our approach is one of minimum intervention that subtly recalls the rise and fall of the gasholder bell to provide an ever-changing and dramatic space.
A new landscape in the base of the guide frame uses minimal changes in water level to transform from an active play space for children in the adjacent school by day to a beautiful reflection pool which magnifies the volume of the gasholder at night. Stepping stones emerge from the water as the level changes providing alternative routes through the landscape. Glass lenses provide views from an internal event space below up to the gasholder.
By night the guide frame will be illuminated by an array of wind-driven LED lights to create an animated and delicate effect which contrasts with the heavy industrial heritage of the structure.
The gasholder was dismantled in Autumn 2011 and we have been working with Arup and BAM Nuttal to devise a detailed methodology for the refurbishment and re-erection of the gasholder. Refurbishment work is nearing completion and we are currently working on the planning application for the new public space.
Location: King's Cross, London N1
Client: King's Cross Central
Completion date: N/A
Contract value: £2.5million (estimated)
Project Type: Unbuilt project