Elephant & Castle scheme rebranded as St George's Quarter
Next month will see London South Bank University (LSBU) reveal plans to redevelop part of its Elephant & Castle campus in south London.
Wilkinson Eyre has drawn up the plans for the revamp, which will see the area rebranded as St George's Quarter.
Proposed work will include the preservation and refurbishment of the façade of the listed Victorian chapel on Borough Road and the building becoming an arts centre for students and locals; new facilities for students including two lecture theatres, plus libraries and new teaching and exhibition space.
Ian Mehrtens, LSBU's chief operating officer, said: "We see Wilkinson Eyre's new plans for St George's Quarter as forming very much a part of Southwark's neighbourhood plan for the area.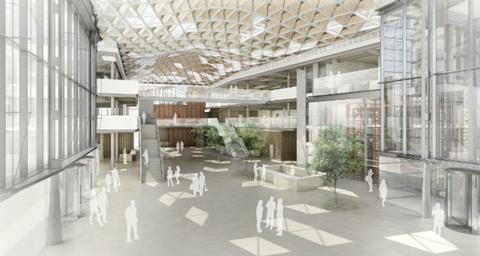 "We hope that local residents will find the proposals to be welcoming, sympathetic and an attractive addition to their local area but we are very keen to hear your feedback before we submit our planning application."
Stafford Critchlow, director of Wilkinson Eyre, said: "This new facility will become the beating heart of the LSBU campus, providing a much-needed focus for students around a covered concourse and three new landscaped squares."
Plans will be able to view at the Clarence Centre for Enterprise and Innovation at St George's Circus from 4 September for three weeks.