City council says Allies & Morrison scheme now gives it no cause for concern over World Heritage Site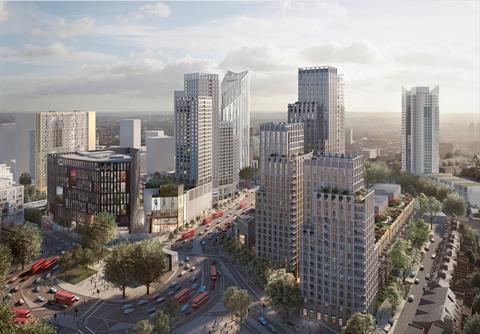 Westminster council has said it will not seek to block the redevelopment of south London's Elephant & Castle shopping centre despite raising concerns over the major scheme earlier this year.
Allies & Morrison-designed proposals for the redevelopment of the 1960s shopping centre and the London College of Communication were lodged for planning with Southwark council last year, with replacement retail and academic facilities, more than 900 homes and a 34-storey tower included in the mix.
Southwark asked neighbouring Westminster for its opinions on the proposals, but the city council said it could not respond because of a lack of detail on their impact on the Westminster World Heritage Site, which centres around the Houses of Parliament and Westminster Abbey.
Last week Westminster's director of planning, John Walker, wrote to Southwark confirming that the authority had no objection to the Allies & Morrison proposals.
Just-published background papers on the decision say the authority had been particularly concerned about views of the Unesco World Heritage Site from the Serpentine Bridge in Hyde Park earlier this year.
However, following extra details about the scheme, it concluded: "Although there is a section of the development that will be visible above the treeline to the right of Victoria Tower; given the other more visually obtrusive development already approved within the setting of the WHS, on balance, it is considered that this will not result in further harm."
Southwark has yet to set a determination date for the Elephant & Castle shopping centre and London College of Communications proposals, which were drawn up for developer Delancey.
The wider Elephant & Castle area is undergoing a wider £3bn regeneration that is being masterminded by Lendlease. Architects working on the scheme include AHMM, dRMM and Squire & Partners.