'Fantastic challenge,' says architect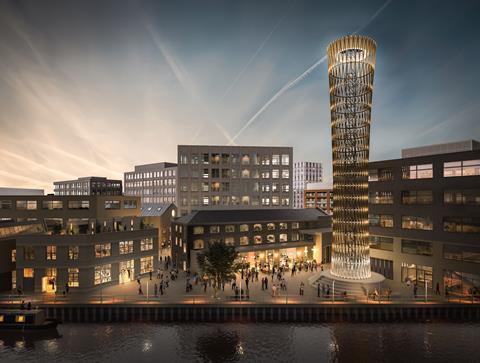 Waugh Thistleton Architects has revealed new images of its scheme for Sugar House Island, near the Queen Elizabeth Olympic Park in east London.
Developed by Vastint UK, the new workspace quarter called Dane's Yard (pictured) forms the first phase of a wider Sugar House Island mixed-use scheme.
Dane's Yard comprises 88,000sq ft of workspace across eight buildings which will be home to companies in the creative industries, along with retail units.
The 26-acre site is bounded by water and has been masterplanned by ARC-ML. It will deliver 624,000sq ft of office space and 1,200 homes, plus gardens, courtyards, a riverside park, restaurants, cafes, retail outlets and a hotel.
Andrew Waugh, founding partner of Waugh Thistleton, said: "It is a fantastic challenge to build a creative quarter from the ground up and drawing on our experience as a pivotal player in the Shoreditch renaissance, we have worked with Vastint UK to create an architecture and public domain that will enable the rapid growth of a creative community.
"Crucially, this mixes existing buildings with new, recreating historical street patterns and opening up opportunities for innovation and placemaking.
"The seven buildings form an ecosystem of office space, with each offering something different, from a large open plan space with a sawtooth roof to a seven-storey office block. The diversity of spaces has been conceived to attract a vibrant mix of companies."
The site is close to the Olympic Park and next to 3 Mills Studios, home to film and TV productions including the latest Wes Anderson film Isle of Dogs.
The first offices in Dane's Yard will available for occupation by the end of 2018.