Practice showcases plans to build extension to its Kutaisi International Airport
UNStudio has been appointed to create a large extension to Kutaisi International Airport in Georgia.
The Dutch practice designed the original airport, near the city of Kutaisi, and which opened in 2012, and said the extension was required to handle a projected increase in annual passengers from the 300,000 recorded last year to one million by 2020.
It said the proposals took advantage of the linearity of the current terminal's composition and introduced a sense of place through a "strong topological variation" that referenced the Caucasus Mountains, which can be seen on the horizon.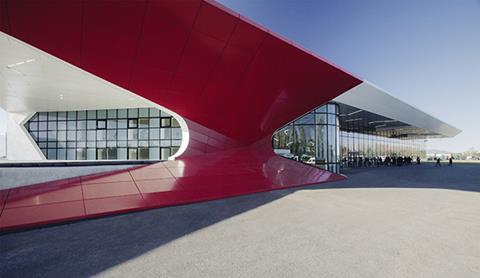 Under UNStudio's plans, the existing terminal building will be transformed to become the expanded airport's departure hall, while arrivals will be relocated at the other end of a new terminal building.
"Facing the task of upgrading the capacity of the terminal it was decided to follow a unique and forward-thinking approach," the practice said.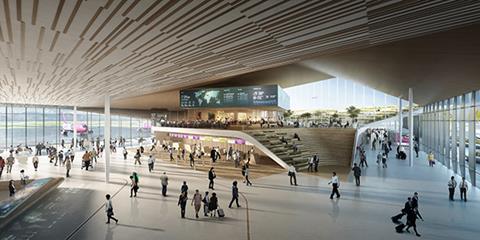 It said a new central passenger hall featuring an elevated plaza was a "strong architectural feature" of the expansion plans.
"The elevated plaza runs up to the roof level and, by splitting the length of the terminal, creates another moment of orientation," UNStudio said.
"From here it is possible to facilitate the use of the outdoor environment, where family and friends can easily observe the arrival of their loved ones, or where passengers can enjoy a little break-out time before a long journey."
The airport is also due to be a stop on a new railway line linking the Georgian capital of Tbilisi with the Black Sea coast.