Number of new homes built reached 217,000 in 2016/17 - highest in almost a decade
Communities minister Sajid Javid has said the country needs to add "a lot more" than 275,000 homes to its housing stock every year, while announcing a raft of pro-housebuilding measures in advance of next week's budget.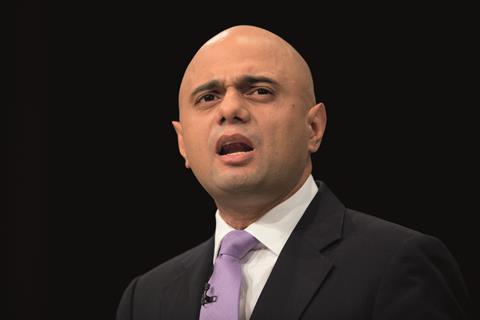 Javid used a speech in Bristol to unveil the latest government figures showing that total "net additions" of new homes reached 217,000 in 2016/17, the highest number since 2007/8.
While this rate of housebuilding puts the government on course to meet its manifesto target to build 1.5 million between 2015 and 2022, he said the government needed to increase housebuilding even further.
He said: "We need a lot more homes. At the time of the white paper I talked about 225,000 to 275,000 homes. It's going to need to be a lot more than 275,000 to crack this affordability problem."
His comments came as he announced he was taking action to intervene in 15 local authorities that have failed to produce a local plan since 2004, while in a written ministerial statement he said he was shortly to give details of £25 million of funding to help local authorities to plan for homes.
He also made clear to expect significant support for housebuilding in chancellor Philip Hammond's first autumn budget, next Wednesday.
"We must fix the broken housing market, and we must do it now. In next week's budget you will see how seriously we take the challenge," said Javid.
He raised the prospect of more direct government intervention in housebuilding in order to up build rates, including the prospect of Garden Cities. Thus far the government has promoted "locally led" garden towns and villages but has not committed to larger-scale new communities.
"Can and should central government take a bigger, more active role in building homes? Our vision for Garden Villages and Garden Towns has been well received. But should we now be more bold, taking the concept to the next level and creating larger Garden Cities?"
He also said the government was looking at how to get more land in the development system, and reforms to the way viability assessments on development are working.
His speech also came on the day the government officially reclassified housing associations as part of the private sector, something Javid said would free them up to deliver more homes.
By taking housing association borrowing off the government books, some in the sector have speculated it will allow the government to put additional money back in to building more homes.
Javid said the current housing crisis was creating a country in which "your opportunity is increasingly limited not by your talents, but by your ability to make a withdrawal from the bank of mum and dad. What you'll see [in the budget] is something that follows up on what I've said today."
The Labour mayor of Bristol Marvin Rees, who attended the event, welcomed Javid's focus on increasing housebuilding, but said it was vital that it was matched with funding for affordable housing.
"For us the important thing is a very strong line on affordable housing. Just increasing numbers alone won't do it. We'd love there to be something more in the budget."
The 15 councils where the government is intervening to take control of their local plans are: Basildon, Brentwood, Bolsover, Calderdale, Castle Point, Eastleigh, Liverpool, Mansfield, North East Derbyshire, Northumberland, Runnymede, St Albans, Thanet, Wirral and York.