Seven-storey mixed-use scheme would replace red-brick 1925 office building
Squire & Partners has created proposals for the mixed-use redevelopment of a red-brick office building on a prominent corner site in Westminster.
Townsend House, in Greycoat Place, was built in 1925 and originally served as the headquarters of the Girls' Friendly Society.
But planning documents supporting Squire and Partners' plans say the current unlisted four-storey office building has been "dwarfed" by neighbouring development and that its new proposals – drawn up for ITC Properties – "sit more comfortably" with the current townscape. One of the site's immediate neighbours is Assael Architecture's Ten Rochester Row.
The new scheme, lodged with Westminster council earlier this month, would deliver a seven-storey building, with five apartments on the top two floors, four storeys of office accommodation and a restaurant occupying its ground-floor and basement levels.
According to the planning application, the new building – which is approximately half way between the Houses of Parliament and Westminster Cathedral – would deliver 500sq m more office accommodation than Townsend House, as well as new homes and restaurant space.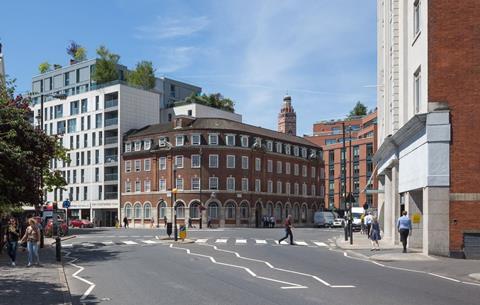 Squire & Partners' design and access statement for the scheme said the proposals "took material cues" from notable buildings in the Westminster area, including Artillery House, Victoria Coach Station, and the National Audit Office which had "informed the palette of white stone with dark trim detailing".
"The building façade is primarily made up of regularly arranged stone pilasters either side of projecting bay windows with dark bronze anodised aluminium frames and spandrels – adding a strong sense of verticality to the building," it said.
"The rhythm and weight of the pilasters varies across the arrangement of different tenures as the building rises. Art deco-influenced detailing embellishes the pilasters to bring a depth of quality to the design."
The practice added that the building's penthouse level was clad in tiles that contrasted with the main façade of the building in a move that was "complementary to the character of the surrounding buildings", such as Grey Coat Hospital and Grey Coat Gardens.
The proposals – named 5 Greycoat Place – are currently open to public consultation. Westminster council has yet to set a determination date.