RYNO takes a look at pedestal design, exploring the benefits as well as how to ensure you find the right pedestal for your project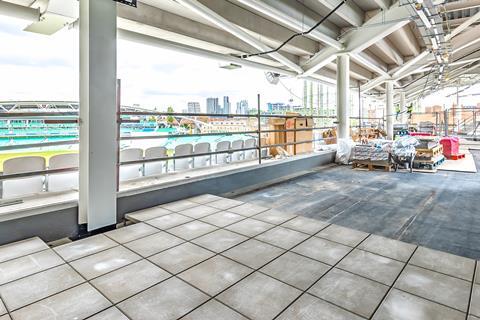 Pedestals are a common component in contemporary balcony and terrace solutions. They provide support, contribute to project aesthetics, and fulfil several other practical functions, including assisting with drainage and obscuring unsightly infrastructure. To achieve these design objectives, manufacturers have had to carefully consider pedestal design and commit to continued innovation.
The result is high-quality, non-combustible products that are remarkably versatile, boast unique design features and comply with all relevant legislation. In this article, we examine pedestal design, discuss several pedestal benefits, and look at how you know which pedestal is right for your project.
Innovative and ingenious pedestal design
Though based on a relatively simple design concept that has existed for a long time, modern pedestals are remarkably well-engineered, varied and often innovative. Ingenious design and an ability to customise pedestal deployment through functional accessories ensure they can be used in a wide variety of projects and are relevant to diverse settings.
For instance, manufacturers have improved traditional, fixed pedestals by incorporating an adjustable element that facilitates easy installation and enables specialists to set the desired height with great precision. Going one step further, self-levelling pedestals employ a ball and socket design for in-built slope correction. A lock nut then secures the support in place.
Accessories like head and base shock pads are not essential but extend the expected lifespan of the paving or decking system by preventing grinding between the tile, pedestal, and substrate. Edge spring clips guarantee uniform spacing when tiles are set against a wall. And spreader plates distribute pressure over a larger surface area, making pedestal designs viable on substrates that may not otherwise support them.
Pedestals provide support, contribute to project aesthetics, and fulfil several other practical functions, including assisting with drainage and obscuring unsightly infrastructure.
Guaranteed strength and durability
Paving and decking pedestals are designed to bear considerable weight. When utilised beneath podiums, platforms, and terraces, they must withstand pressure from heavy foot traffic, furniture, planters and even small structures and buildings. Fortunately, modern pedestal design means these products can support significant weight.
Most high-quality pedestals will be strength-tested by the manufacturer and an independent third party. This usually involves compression testing, whereby pressure is applied to the pedestals to ensure they can support the required weight. In most cases, they are tested by adding weight incrementally until the pedestal reaches the point of failure.
When looking for pedestals, always check the manufacturer's compression testing certification. If you require further assurance, find out whether the testing organisation is using a fully calibrated and certified testing rig and enquire about what product warranties and guarantees are available.
However, pedestals are just one component in balcony and terrace systems. Your choice of deck boards or tiles will also impact the overall load-bearing capacity. While well-designed pedestals are critical to ensuring structural integrity, their performance can be enhanced or compromised by a particular tile.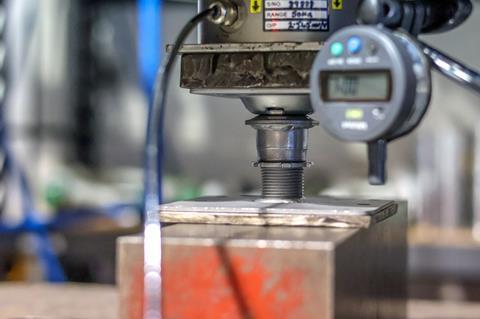 Ensuring compliance with building regulations
Product compliance with modern building regulations is a concern for all developers, architects, and construction professionals. In the post-Grenfell landscape, there is no room for substandard materials that have the potential to endanger people's lives. This is particularly true of balconies and terraces, which the Fire Safety Act 2021 refers to explicitly. It legislates that developers must construct new balconies and terraces from non-combustible materials. Similarly, developers must alter and update existing balconies made from combustible materials to conform to the regulations.
Many pedestals are now designed with these regulations in mind and are certified as non-combustible. While materials given a fire rating of A1 or A2 are designated non-combustible, it also pays to keep an eye out for manufacturers' assurances. Some companies have launched non-combustible-certified product ranges that benefit from clear branding and labelling and guarantee compliance. It makes the process of selecting a non-combustible product much easier.
When looking for pedestals, always check the manufacturer's compression testing certification.
Contributing to an aesthetically pleasing finish
Though they primarily serve a functional purpose, pedestals are not immune from aesthetic concerns. Usually, decking and paving systems conceal the pedestals, so you enjoy a clean finish. In most instances, you cannot tell whether paving or decking is elevated above the underlying substrate.
However, pedestals also play a critical role in helping you achieve your desired finish. Balcony and terrace aesthetics often depend on setting the surface at the right level and facilitating visually pleasing transitions between spaces. Similarly, pedestals may enable you to use materials that would be otherwise impossible, allowing for greater flexibility of finish. Finally, you can use the space pedestals create under a balcony or terrace to conceal pipes, wires, and other infrastructure you do not want on show.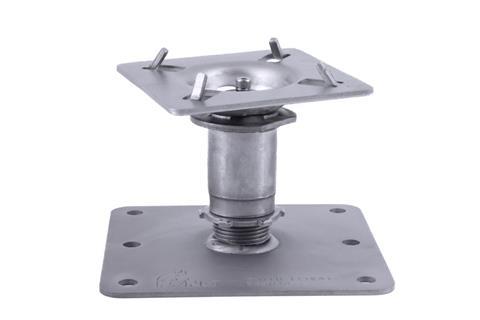 Facilitating intelligent drainage and concealed drainage solutions
Pedestals are also beneficial when it comes to drainage. By elevating the paving surface above the substrate, they create a natural run-off for water. This prevents puddling and reduces the chance of lying water becoming a health and safety hazard.
That said, developers must carefully consider drainage beneath the paving or decking, as you must channel water away to protect the system's structural integrity. Typically, this means grading the substrate to create a sloped surface that encourages run-off. Pedestals allow developers to incorporate sloped surfaces into balcony and terrace designs by elevating the flat floor surface and permitting room for an angled one below.
Selecting the right pedestal
With so many pedestal products on the market, knowing which is right for your project can be a challenge. RYNO® is an industry-leading paving, decking and roof solutions provider that works with the construction sector to deliver high-performance systems built with world-class components.
RYNO's range of pedestal products represents the latest in decking and paving technology and is a fantastic place to begin your search. Its experienced team of experts can also help you ensure you choose the right pedestal for your project and provide guidance and advice on product selection. Whether you are fitting balconies or terraces to a new build or are involved in an extensive remediation project, the RYNO team makes your job easier.
Simply head to the RYNO website, call 0203 9673500 or use our online contact form to speak to a RYNO advisor.