Fire and building regulations in the UK have seen considerable change since the Grenfell tragedy in 2017, which has rightly had a big impact on the materials and processes specfied. RYNO explores the developments we may see over the next few years
Any construction professional interested in preventing their projects becoming stranded assets always has one eye on the latest changes to fire and building regulations. It is an area that has seen considerable change over the last few years and has had a significant impact on the materials and processes we use.
Currently, the most pressing concern for most construction companies is balcony and terrace remediation work. In fact, if you look at cladding, it is estimated that there may be well over 10,000 mid and high-rise buildings in the UK that are still unsafe.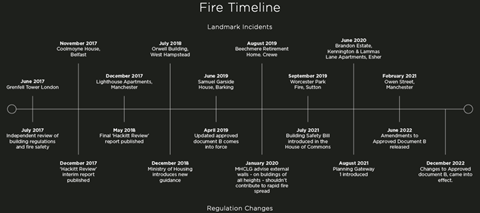 However, beyond that, what does the regulatory landscape look like? Here, we explore the developments we may see over the next few years.
Explaining the Building Safety Regulator (BSR) timeline
Established to protect high-rise residents from unsafe building practices in the wake of Grenfell, the BSR will play a central role in establishing safety standards over the coming years. It has published a timeline of future developments.
Between April and October 2023, BSR changes will include:
New duties for Accountable Persons coming into force for occupied higher-risk buildings.
BSR becoming the Building Control Authority (BCA) and begin inspecting building work.
Registers for building control inspectors and building control approvers opening.
BSR starting to assess safety case reports for occupied higher-risk buildings.
New regimes for competence of building control inspectors and performance of local building control bodies coming into force.
Evacuation procedures will affect construction standards
The need for codified emergency evacuation procedures was a key takeaway from Grenfell and other recent fires in multi-occupancy buildings. The Cube fire in Manchester is an insightful example. Situated in Bolton, it was a multi-occupied residential building comprising 200 units targeted at university students.
The Greater Manchester Fire and Rescue Service (GMFRS) report details how "with clear evidence that the building was failing to contain the fire… a full and immediate resident evacuation was instigated." The report surmised that the "change of advice to callers from stay put to evacuate… contributed to the reduction of injury and allowed all persons to safely leave the building."
The emphasis on evacuation procedures suggests lessons learned from these incidents may affect future construction regulations. For instance, in February 2023, second staircases were made a legal requirement in London for all new residential buildings above 30 metres (FPA). This could be extended to multi-occupancy buildings under 30 metres in the future and other structural safety measures may be required as evacuation procedures are developed and standardised across UK fire forces.
Speed of innovation poses regulatory challenges
One of the principal challenges facing the government and construction sector is the speed of change. The pace of innovation is remarkable and new materials and designs are introduced regularly. However, as the GMFRS notes, this innovation means modern buildings react in unexpected ways to fire. "The fire at The Cube was not the first where a building has been seen to 'fail' under fire conditions, in contrast with traditional knowledge and understanding of fire behaviour in the built environment" (ManchesterFire).
Zurich Insurance argues that "with such rapid innovation… it's hard for advice policy and procedure to keep up, especially with challenges arising from lack of large-scale testing, equipment limitations and research." To some degree, this means the construction sector cannot rely on government regulation to dictate fire safety. To safeguard human life, prevent the incursion of future remediation costs and protect asset value, construction specialists must begin prioritising fire safety by working with proven suppliers and materials. They must strive to always stay one step ahead of legislation.
Implementing current regulations is still a priority
While assessing the future of fire compliance in the UK is both necessary and valuable, there is still considerable work to be done implementing and enforcing historic regulations. For instance, government figures from the summer of 2022 suggest that at least 9,793 tower blocks alone in England could still be classified as 'unsafe' due to dangerous cladding (LBC).
This illustrates the extent of the remediation work still required, even though the Grenfell fire occurred more than five years ago. There are several lessons to draw from this. First, compliance with new regulations takes time. But it also requires the government to strike a delicate balance between the carrot and the stick. The government must allow property owners a reasonable but restricted window to make changes, encourage remediation with incentives and punish those who fail financially.
Second, property owners that want to prevent their buildings from becoming stranded assets must undertake remediation work sooner rather than later. More importantly, remediation work must be carefully considered and foreshadow anticipated changes to regulations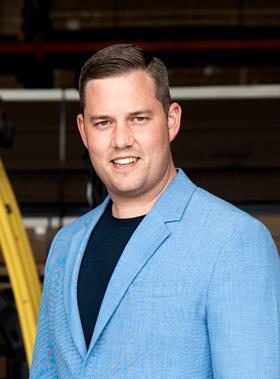 Jared White, Managing Director at RYNO, summarised the situation. "While remediation work is crucial for the safety of residents and workers throughout the UK, it's equally essential to consider the upcoming regulatory changes and the speed of product innovations that will affect both remediation and new builds. Failing to account for these factors increases the risk of buildings becoming stranded assets."

What next?
While we cannot peer into our crystal ball and reveal exactly what will take place over the coming years, it is clear that there will be further changes to building fire regulations.
They will also be compounded by regulatory changes in other areas, such as the environmentally inspired Future Buildings Standard due to come into force in 2025. While fire remediation may have been manageable on its own, construction firms will struggle to satisfy requirements in the wider regulatory landscape unless they begin planning now.
For the construction sector, it is essential to pre-empt the introduction of new regulations and begin using approved fire-safe materials. Futureproofing the value of real estate assets and preventing the need for expensive remediation projects more than justifies this investment. RYNO's IGNO-certified materials are an excellent example. IGNO marks a product as non-combustible and signifies a material that goes beyond compliance to incorporate built-in protection. RYNO's IGNO range will always comply with (and often exceed) building regulations, helping you to futureproof your construction projects and safeguard your reputation.