Skyscraper's tapered profile echoes neighbouring Cheesegrater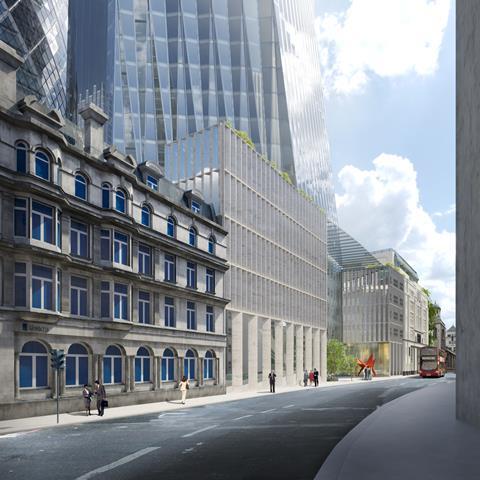 US architect SOM has released images of a 56-storey skyscraper planned for a site in the City of London next to the Gherkin, the Cheesegrater and Eric Parry's 1 Undershaft.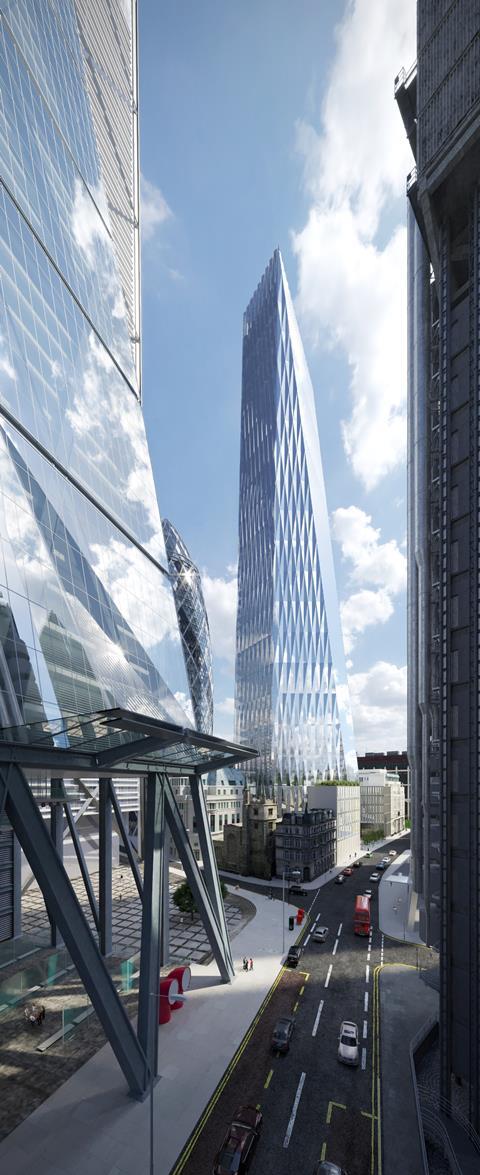 SOM was appointed last summer, beating practices including PLP and Wilkinson Eyre to the job, currently called 100 Leadenhall.
The tapering profile of the 263m tower echoes that of the Cheesegrater. Both buildings are sailing close to protected views of St Paul's Cathedral.
It will provide 110,000sq m of office space with shops at ground level, new pedestrian routes between Leadenhall Street, Bury Street and St Mary Axe, and new public spaces around the base of the building.
Mark Cannell, partner at London & Oriental, said it would be a "beautiful and striking piece of architecture" that had been designed with the public as well as occupiers in mind.
He added: "100 Leadenhall Street is one of the last significant sites available for development in the City's eastern cluster of tall buildings. Our ambition has been to create a building which both respects the valuable historic and contemporary surroundings while contributing an exciting new landmark building for London."
SOM's design pulls the building back from the Leadenhall Street boundary line to create a plaza (pictured above). A further public space will be built next to St Andrew Undershaft, giving a public view of the church from the east for the first time in many decades. The massing also means sunlight will penetrate its stained-glass windows for the first time in a century, said the developer.
The architect said: "The facades are designed to enrich the simple geometric forms of the building with a complex three-dimensional geometry based on a pattern of interlocking diamonds, which creates an ever-changing light pattern over the course of the day."
The tower will replace buildings between 100-112 Leadenhall Street, which were bought in 2014-15 by Far East investment specialist London & Oriental, acting on behalf of Hong Kong investor Lai Sun Development.
Lai Sun Developments, via subsidiary companies, bought 106 Leadenhall for £21.5m last December, and 100 Leadenhall and 107-122 Leadenhall for £107m and £60m respectively in 2014.
A planning application could be submitted early next year.
The scheme is out for public consultation and can be viewed here.