Size really does make a difference in terms of 2018 outlook, architects say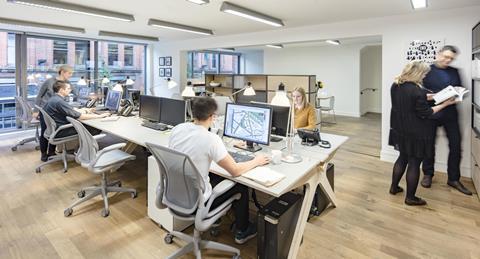 Architects who work for smaller practices have more confidence in their pipeline of work over the coming months than firms with bigger headcounts, a survey of BD readers has shown.
Practices are also split along similar lines on the effect Brexit will have on their ability to retain EU staff.
A crunch of responses to our New Year survey shows that while architects in all sectors are united on some elements of how 2018 will play out for practices, there is a size divide in others.
The biggest area of difference highlighted in our survey is that practices with 25 or fewer staff are far less pessimistic about their workloads for the current year.
Sixty-three per cent of architects at practices with 26 or more staff said they expected workloads to contract or contract substantially this year, in comparison to last year.
In response to the same question, just 41% of practices with 25 or fewer staff said they expected their workloads to contract.
Small practices also believed themselves to be less impacted by Brexit-related staffing issues than their larger counterparts.
Seventy-two percent of the architects from practices with 25 or fewer staff indicated that they were not worried about losing staff because of Brexit – either because they did not have any EU staff or because they considered their EU staff unlikely to leave.
For larger practices, three-quarters predicted that some EU staff would leave with "up to 10%" being the most common expectation.
Adrian Dobson, RIBA's executive director for members, said the BD survey results tallied with recent findings from the institute's monthly Future Trends surveys.
He said a marked divergence in workload optimism between smaller and larger firms had been observable in 2017, but appeared to have softened since the autumn.
Dobson added that although December's tentative deal on the right-to-remain for EU staff, agreed between the UK government and the European Council, had given some reassurance to firms with high non-UK headcounts, a reliance on EU staff was causing headaches for big London-based practices.
"Our impression is that a typical large London practice is likely to have at least 50% EU recruitment, and there are a lot of indications out there that recently they're getting fewer applications from EU staff," he said.
Dobson pointed to Architects Registration Board figures on applications to practice from EU nationals as evidence of the past flow of talent in from mainland Europe as evidence of the importance of EU staff. The figures published last summer did not show a dip in demand for accreditation, however.
In relation to workloads, Dobson said that a feature of 2017 sentiment had been a switch towards practices predicting pipelines remaining flat, against previous projections of 5%-10% increases.
Architects who offered BD a personal perspective on their firm's situation painted a picture of a changing work environment in which clients were more likely than had previously been the case to change their minds on projects, adding a new "stop-start" approach into the mix.
Dobson told BD that such sentiments were supported by anecdotal evidence received by RIBA.