Make Architects founder criticises development cycle, but admits participating with 5 Broadgate
Make Architects founder Ken Shuttleworth has described the redevelopment trend for buildings demolished before they are even halfway through their useful lives as "absolute madness" from an environmental point of view.
But Shuttleworth also accepted that his practice was a willing participant, notably in relation to the firm's 5 Broadgate project for financial services giant UBS, which replaced part of the 1980s Broadgate development in the City of London, designed by Arup's Peter Foggo.
Shuttleworth's comments came during a half-hour discussion on the future of corporate headquarters buildings and the changing nature of clients' demands, as part of the business-focused BBC Radio 4 programme The Bottom Line.
The architect said he was particularly proud of the £500m Broadgate building, completed in 2015, which is clad in stainless steel and described as a "13-storey groundscraper" by the practice.
"It's one of the largest buildings in central London; it's highly insulated and reflective; it's the sort of building that reflects the UBS brand," he said.
"Strong, solid, secure… it's not flashy, it's like a Swiss watch with lustre."
However asked about building lifespans by programme host Evan Davis, Shuttleworth accepted the suggestion that society should think it "a bit disgraceful" that buildings were being torn down after 30 or 40 years.
"I know, and I think that from an environmental point of view it's madness, absolutely," he said – at which point fellow panelist Deyan Sudjic, director of the Design Museum, interjected: "But Ken, you've just done that!"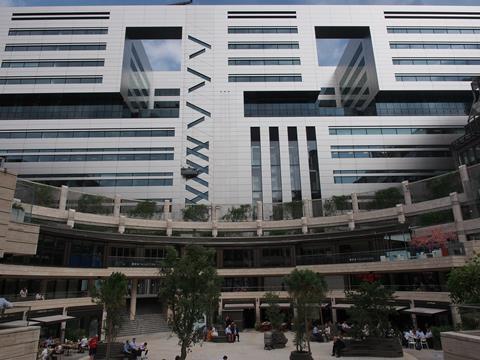 Shuttleworth responded: "I have done that, yeah, but you've got to make sure that you design a building that can last more than 20 years and think about the future. If only more of that was done at the time."
The architect had told Davis he expected buildings Make designed to have a lifespan of 100 years, with M&E expected to be "ripped out" after 20 years, and carpets replaced every 10 years.
"Buildings need to be flexible, they need to be adaptable and they need to be allowed to be changed over time," he said.
"Because you don't know what's going to happen, you've got to make sure you're not going to need to demolish them in 20 years' time.
"I think that's really important for the environment, for making the buildings as green as possible, but I think buildings are going to be much more about their location and that interaction between them and the environment, and if it's not there – if it's a fortress – it's always going to be a problem."
The panel discussion, which also included Sheppard Robson partner Helen Berresford, had been considering the changing nature of corporate headquarters buildings, and referenced projects commissioned for Google, Facebook, Amazon and Apple – dubbed Silicon Valley's "four horsemen of the apocalypse" by Sudjic.
In addition to Make's work for UBS and Facebook, Shuttleworth also referenced Frank Lloyd Wright's Johnson Wax building in Wisconsin and New York's Chrysler Building as historic examples of corporate attempts to use architecture to ingrain their brands as forward-looking.
Shuttleworth suggested that the drive for innovative and iconic headquarters buildings was part of a "war for talent" that was making firms build incredible structures to attract the best people.