Architect proposes using geothermal heat under Penzance pool
Scott Whitby Studio has won planning and listed building consent for a project to breathe new life into Britain's biggest seawater lido.
The art deco Jubilee Pool in Penzance was opened in 1935 when the town was one of the country's premier holiday resorts.
Over the decades its fortunes waned as it took a battering from storms and it was ultimately threatened with closure.
It is now owned by a community benefit society which asked Scott Whitby Studio to prepare proposals for safeguarding the future of the pool by providing year-round facilities.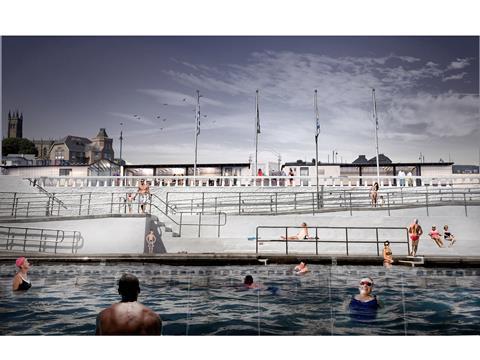 Working with Arup, the practice, founded in 2014 by Alex Scott-Whitby, proposed using geothermal energy to turn it into the UK's only geothermally heated seawater pool. This is expected to attract more users and to make the lido a year-round attraction.
As many buildings as possible are retained and upgraded, with new double-glazed aluminium-framed bi-fold doors inserted between them to create an enlarged café and a community hall which will open year-round on to a new public promenade.
A sculpted roof covers the whole development, transitioning from a gently undulating form facing the street to a simple projecting roof pool-side where the existing art deco design has strong horizontal lines.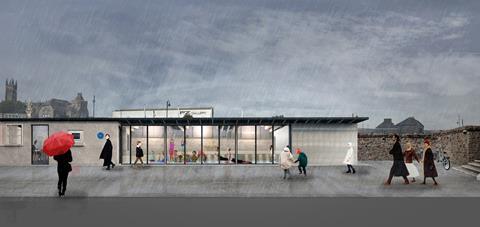 Scott-Whitby said: "We are delighted to have the opportunity to work with an energetic local community on this important and much-loved listed building.
"Jubilee Pool Penzance is close to my heart as I have direct family links to the town. We hope these proposals will lift Penzance from one of Britain's most deprived areas to become the spa town destination of Cornwall."
The triangular pool is one of only five sea water lidos remaining in the country.
Geothermal drilling is taking place this summer financed by the European Regional Development Fund, but a further £350,000 must be raised by the community. With another month to go a crowd-funding campaign has raised more than half that.
More details here: www.crowdfunder.co.uk/jubileepool