Architect designed £7m headquarters for Sunderland waterfront site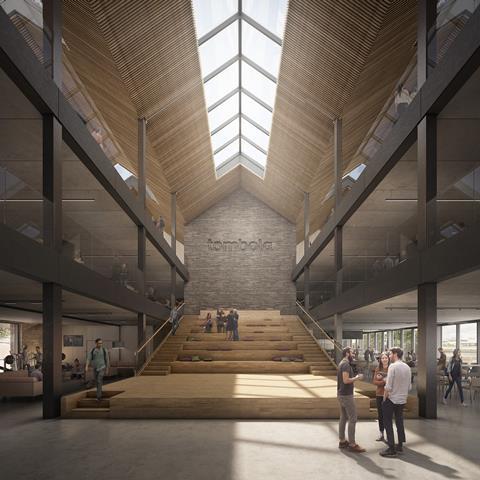 Ryder Architecture has unveiled images of a £7m headquarters for an online gambling firm in Sunderland.
The three-storey building is located on the bank of the River Wear and uses masonry, steel, wood and glass to create what the architect described as an "open and light environment".
The building covers 25,000sq ft, with a 15m atrium and central oak staircase with integrated presentational plinth. It will also contain a restaurant with views of the port.
The building is situated by bingo firm Tombola's current headquarters, the Rose Line Building at Wylam Wharf. A former warehouse dating from the 1700s, it is one of only two remaining warehouses in the now densely occupied commercial quayside.
Paul Milner, senior architect at Ryder, said: "From the outset, the client wanted to create a working environment attractive to young professionals, an address with a historic industrial location and a campus hub for the activity that an ever-growing and busy tech firm generates daily.
"We've designed an environment that encourages harmony with a workplace culture of informality and flexibility. Agile workspaces within the open plan and airy environment are supported by strategically located private meeting rooms."
Work has already started on site.