Locals worried by impact on Peckham Coal Line of planned housing scheme
A row has broken out after a community group behind a planned park in south London said proposals to build nearby homes would wreck the project.
The Peckham Coal Line, modelled on the New York High Line, is intended to run on disused rail sidings for 900m through the centre of Peckham, providing a new urban park between Queens Road and Rye Lane.
Adams & Sutherland was appointed to carry out a feasibility study for the scheme in March 2016, which is scheduled to be published on 19 September.
But the community group which conceived the project said a planned housing scheme would have "a catastrophic effect" on the Coal Line and would "block off a vital part of the route".
Developer Bluecroft Property applied to Southwark Council last month for planning permission to demolish existing buildings, including a Victorian stable block, and construct nine residential units, drawn up Alan Camp Architects, on the site at 39B Consort Road.
Bluecroft director Tom Mulligan told BD he was surprised about the objections.
"The first I heard about the Peckham Coal Line and their opposition to our plans was over the weekend and it does not appear that our development is actually on the proposed route itself," he said.
"The Coal Line was never mentioned in our planning meeting with Southwark Council, and as far as I am aware, it was not mentioned in two previous pre-applications, carried out by the previous owner [of the site]."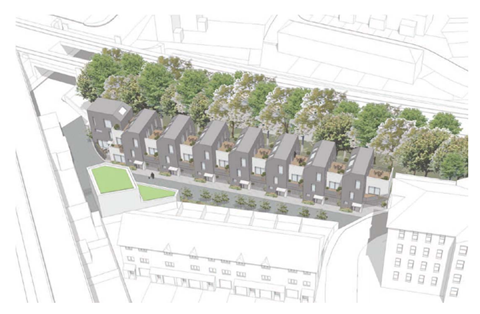 Mulligan added that Bluecroft planned to meet "imminently" with Nick Woodford, a former architectural assistant with Knox Bhavan Architects, who is co-founder of the Peckham Coal Line group.
"Bluecroft is used to working with community groups on new developments, and hopefully we can address their concerns," Mulligan added.
Woodford said: "We are in dialogue with Southwark and the developer and we would like to work collaboratively towards a scene that works for all parties. We are not against development of the site for housing, however we absolutely object to the loss of the Victorian stable block."
A spokeswoman for Southwark Council told BD the council "fully" supported the project. "As a local planning authority we have a duty to process the planning applications that come in to us, but we are working in partnership with the Coal Line to make sure this project is delivered," she said. "We expect the landowners along the route to work with us and the Coal Line to deliver this project."
She added that the council has made contact with the developer "to find a solution to the current issue".
Southwark previously safeguarded the Coal Line's route in the draft New Southwark Plan and contributed £10,000 towards the project's budget.