$30m proposals for Florida venue set to open in 2020
David Adjaye has revealed his concept designs for a library and events-centre complex for the City of Winter Park in Florida.
The architect was appointed to the $30m (£23m) project in May, working alongside local practice HuntonBrady on the project, which will replace an existing civic centre that is due to host its last events in June next year.
Winter Park, which is part of the Orlando metropolitan area, cited Adjaye's Idea Stores in east London in saluting his "field-leading" expertise in library design when the architect was hired.
His practice's concept design includes a two-story library building with 3,665sq m of floorspace, and a 1,171sq m single-storey events centre, a portico drop-off, and surrounding outdoor open space.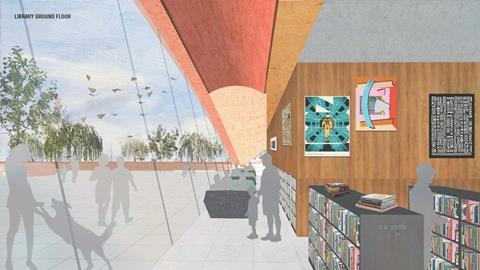 The library will feature separate age-appropriate spaces for young people to encourage exploration and discovery, and foster technology-enabled learning; comfortable homework spaces; interactive technologies to create projects for school or play; and "hangout" spaces for safe socializing.
It will also have facility-wide technology portals for visitors to access digital collections and material, an auditorium, "makerspaces" for video, audio, and digital media production – and 3D design and printing equipment.
Library board of trustees president Dan McIntosh said that the new library building would deliver 50% more useable floorspace than the structure it will replace – even though it is only 500 sq m bigger – because it wastes less space.
"The library is thrilled with the design as an inviting place for 21st century learning, collaboration and community," he said.
"David Adjaye's design fuels the imagination and will provide 360-degree access to learning for generations to come.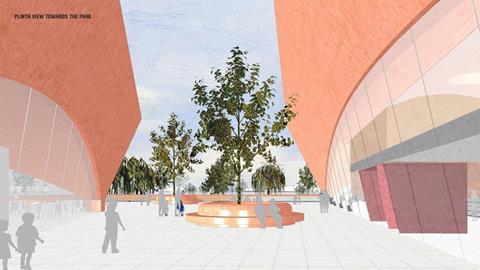 "This community is among few around the world to benefit from Adjaye's commitment to the integral role public libraries play in modern life – we are very fortunate.
His design includes smart spaces to make the library future-proof, ever-changing and evolving, and accessible to all."
"Winter Park was this week due to approve the concept designs, allowing Adjaye and HuntonBrady to develop the proposals for an expected start on-site in autumn next year.
The facility is earmarked to open in the first half of 2020.