A lengthy debate awaits as the profession reacts to the latest catastrophe at Glasgow School of Art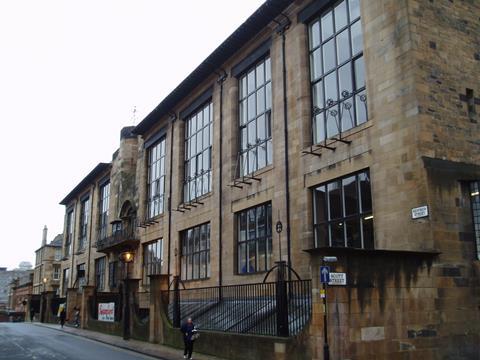 Architects are divided about what the future should hold for the Mac.
The weekend's fire has left the building in an even worse state than the 2014 blaze, raising questions about whether its remains can – or should – be saved.
Put simply, the options are: rebuild, reimagine or replace. We speak to three leading architects to hear the arguments for each case.
Glasgow-based architect Alan Dunlop was an early proponent of replacing the Mac with a new-build structure, ideally designed by a young Scottish architect – as Mackintosh himself was when he began work on the Mac.
At the other end of the spectrum, classicist Francis Terry believes an exact reproduction of the building, which was completed in 1909, is the right option, pointing to the painstaking rebuilding of parts of Warsaw – particularly its medieval old town area – after it was heavily bombed in the Second World War.
"Some buildings are so special that you don't want them to be interfered with," he said.
"The temptation would be to say 'be creative with it'. But it's a bit like when Warsaw was bombed during the war. They just reproduced it exactly as it was. I think the show must go on for the Mac."
Terry, who chairs the RIBA's Traditional Architecture Group, said there was no need to be sentimental about whether the bricks used for reproduced elements were the same as those put in place during Mackintosh's time.
"You can use the same materials to reproduce it, and that's what I would do," he said. "Even things like cathedrals – the actual stones need to be replaced over time."
A detailed picture of the building exists thanks to painstaking digital imaging carried out after the fire and drawings by Mackintosh himself and Paul Clarke, whose measured drawings from 20 years ago formed the basis of Page/Park's winning entry to reconstruct it after the 2014 fire.
Julian Harrap, whose practice specialises in restoration projects – and which worked with David Chipperfield Architects on the Neues Museum restoration in Berlin, said as much as possible of the Mac's remaining structure should be preserved, and its remains carefully studied and reused.
But he argues that there will be a range of options for the building and that the entire site should be stabilised and kept secure while they are properly explored – something he does not believe happened after the 2014 fire.
"You've got a shell of masonry, which in itself has meaning if the architectural heritage is very carefully organised and catalogued," he said.
"The external scaffolding needs to be extended; we've got to stabilise what remains so that a network of interventions can be carried out."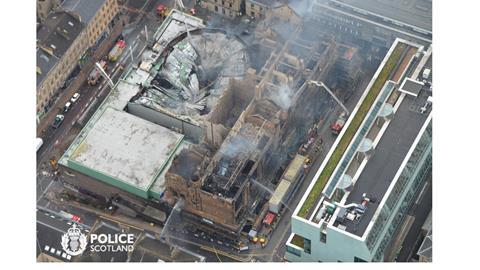 Harrap said he was concerned that fire-damaged fragments of the Mac would be cleared by non-architects or archaeologists in a way that would be "idiotic" from a conservationist perspective, but which he said had happened with other recent projects – including the post-2014 fire work.
"People from the school should lock themselves in a convent and ask themselves 'what is it that we have, what is it that we really want to do?'," he said.
Harrap said that if the long-term solution for the Mac did not involve the reuse of now fire-damaged items, they could be salvaged in ways that were worthy of Mackintosh.
"It may be that some of the larger timber sections can be turned into exquisite objects to be sold as mementos of the building, or the means of funding some new piece," he said.
He added that even the original nails used in the building were representative of the "truth" and craftsmanship of Mackintosh's work, and should be recognised as such, rather than as fire debris.
Yesterday, Alan Dunlop told BD that Glasgow School of Art should not countenance replicating the Mac, nor should it contemplate building a new structure involving its remaining parts.
"Conservationists are saying rebuild it stone by stone but that's not the right thing to do and isn't what Mackintosh would have wanted," he said. "No replication can bring that back to life.
"There should be a design competition for a new building and I would like to think a Scottish architect would be seriously in the running, not there to make up the numbers.
"Mackintosh was in his late 20s when he did the first element of design for the Mac and there are young architects capable of producing something just as outstanding."
The 2014 fire wrecked the Mac's library and other parts of the building, but damage was much less severe than that caused over the weekend. A £35m restoration programme led by Page/Park was due to complete next year.