Planners stump up consent for architect to extend Westminster School sporting landmark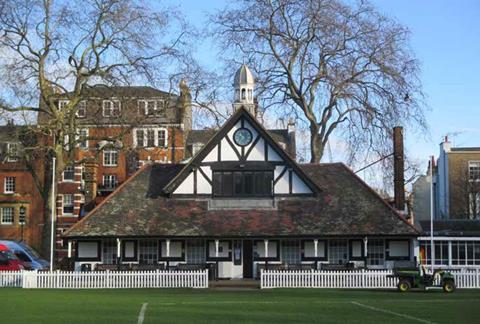 Ptolemy Dean Architects has won planning permission to add two extensions to a 19th-century cricket pavilion in one of central London's most exclusive residential squares.
It created the plans for Westminster School, which has its sports ground at the centre of Vincent Square in Pimlico, half a mile from the Houses of Parliament, and which counts a host of celebrities and politicians among its former pupils.
The practice also recently completed Weston Tower, the first architectural addition to nearby Westminster Abbey for more than 270 years.
Ptolemy Dean's pavilion design involves the demolition of a single-storey 1930s extension on one side of the wood-framed main building and the addition of two new extensions on either side of the unlisted structure.
The proposed east and west extensions feature tent-like roofs, inspired by John Nash's grade II*-listed Rotunda at Woolwich Common, which supporting documents for the planning application said were intended to promote "the sense of fun that should be conveyed by school games".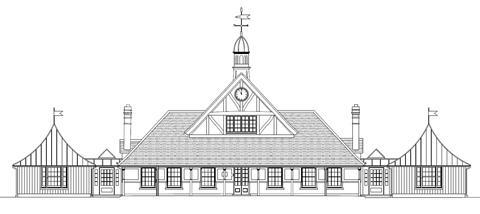 Members of the Westminster Society supported the removal of the old extension and said the Ptolemy Dean plans would enhance the whole building.
But the Vincent Square Residents Association voiced concern about the height of the proposed "tent" roofs, which would be made of ogee copper, and suggested lower pitched versions tiled similarly to the existing pavilion would be more appropriate.
Seven residents of one building in the square also sent letters of objection to the scheme, citing similar concerns as well as calling for any new development to be limited to the footprint of the existing extension.

Recommending the plans for approval to members of Westminster council's planning committee, officers said they believed Ptolemy Dean's design was "appropriate to the context" of the square, which is a conservation area, and would not damage its character.
"Overall, it is considered the extensions would not have a significant or harmful impact when viewed from the objectors' properties, particularly as the visual impact of the pavilion is partially contained in views from this side of the square due to the boundary walls, storage and the taller lodge building," they said.
"Further, the proposed extensions will also help screen car parking and storage areas adjacent to the existing extension, which are currently visible and unsightly."
The application was approved unanimously, but came with a condition that reserved-matters approval will be required for the design of a new weather vane for the pavilion.
Westminster School counts TV journalist and documentary-maker Louis Theroux, Pogues singer Shane MacGowan, former deputy prime minister Nick Clegg, actress Helena Bonham Carter and KGB double agent Kim Philby among its former pupils.
It currently charges annual fees of up to £37,740 for boarders.