Hampshire County Council's in-house architects lead on upgrade of 1980s attraction
Hampshire County Council's in-house architecture team has completed a £5m redesign of Portsmouth's D-Day Museum ahead of next year's 75th anniversary of the Normandy landings.
The project has seen significant alterations to the Southsea museum, which originally opened in 1984, along with landscaping by UBU Design and exhibition design by Studio MB.
Rebranded as the D-Day Story, the museum now features personal accounts of the landings – a turning point in the course of the Second World War – from a variety of perspectives.
Laura Jarman, of Hampshire County Council Property Services, said the concept for the redesign had been to open up the heart of the building to create a concourse that offered visitors a welcoming hub of activity and improved orientation.
"This new foyer links the refurbished exhibition spaces together and strengthens the museum's connection with its re-landscaped forecourt and the adjacent scheduled Ancient Monument of Southsea Castle," she said.
Jarman added that the project had allowed more of the museum's original architecture to be revealed – inside and out, particularly its large circular exhibition hall. The hall houses the Overlord Embroidery, which tells the story of the landings – codenamed Operation Overlord – in 34 hand-stitched panels with a total length of 83m.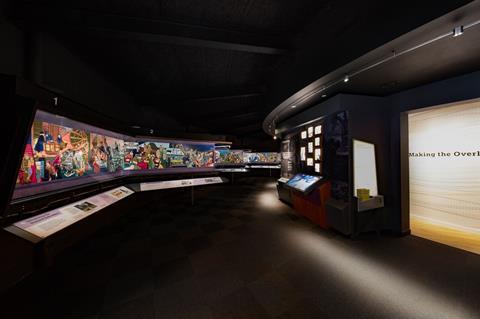 The project, which received £4m in funding from the Heritage Lottery Fund and cash from Portsmouth City Council, also saw the relocation of the venue's café to the concourse, allowing for the creation of new space for temporary exhibitions, conferences and education events.
Jarman said the work had also seen the fabric upgraded and improved environmental control to support the long-term conservation of the museum's collection, which also includes uniforms, landing craft and military vehicles.
Outside, UBU Design created a new entrance plaza, a Normandy Memorial Wall and installed nine corten steel totems with the word "remember" laser-cut into them in different languages.
Project manager for the work was Focus Consultants. Pilbream Construction was the contractor.