Craft was salvaged from the docks in Birkenhead in 2014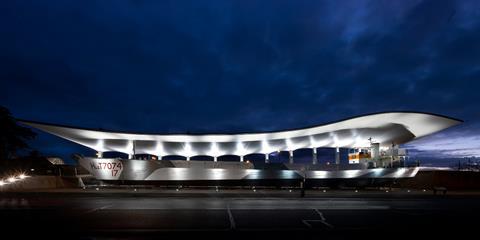 Heritage specialist Pritchard Architecture has unveiled images of a new visitor attraction in Portsmouth housing the sole surviving landing craft from the D-Day landings during the Second World War.
The local practice's project in the city's Southsea district consists of a sweeping cantilevered canopy covering the LCT 7074 landing craft, the last of 800 similar vessels deployed on the shores of Normandy in June 1944.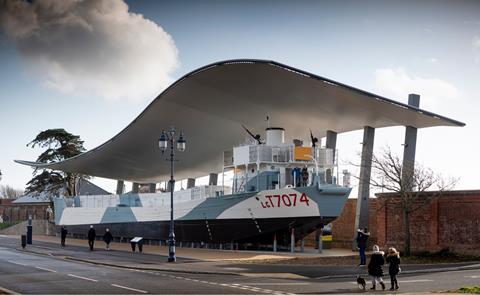 Completed last month, the project provides a final resting place for the 75-year-old craft after it was salvaged from the docks in Birkenhead in 2014.
Decommissioned in 1948, three years after the war's end, the vessel became the club ship of Liverpool's Master Mariners' club before being converted into a floating night club during the 1960s and 70s. She was acquired by the Warship Preservation Trust in the late 1990s and moored at Birkenhead, but fell into disrepair and later sank after the trust went into liquidation.
After being rescued and taken to Portsmouth naval base for restoration, she was transported by barge to the Southsea site in late August last year in a dramatic operation which could only be carried out during a high spring tide to ensure the water along the seafront was deep enough to bring the 300-tonne, 59-metre-long craft in to shore.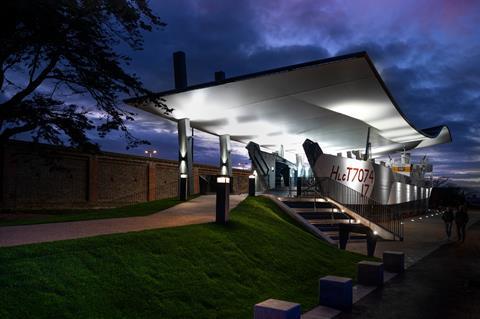 After a first attempt was scuppered by high winds, she was finally hauled on to land at 4am on the second night and transported along the seafront the next day on a pair of 96-wheeled modular transporters.
The new attraction, which was funded by a £4.7m National Lottery grant, includes a pair of restored Second World War tanks on the ship's deck and will be open to the public at all times, with new external lighting illuminating it at night.
It is located adjacent to the D-Day Story museum, with around 4.5 million visitors passing through the area each year.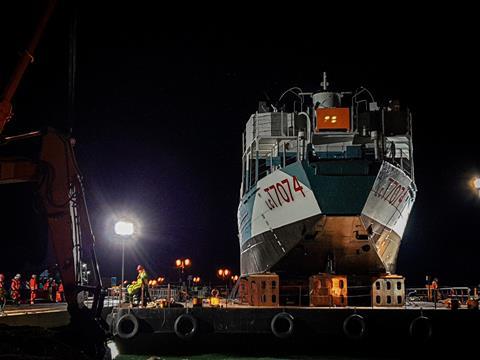 Other projects completed by Pritchard include a restoration and conversion of a grade II-listed Victorian warehouse into a community centre in summer last year.