Architect to repurpose 1960s tower in city's high-rise business district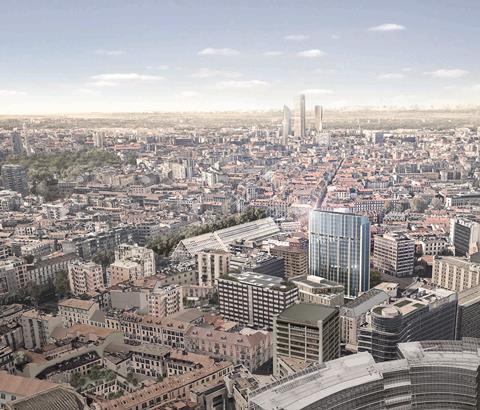 PLP has unveiled €160m plans to breathe new life into a 1962 office tower in Milan that has lain empty for years.
The 20,500sq m project is part of the vast Porta Nuova regeneration project just north of the city's historic core on former railway lands that formed an impermeable void in the city for more than 60 years.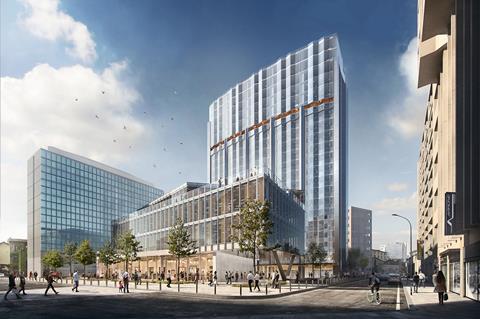 Porta Nuova was partly masterplanned by members of the practice, initially when they were at rival KPF. They also designed three of the area's towers, including the 130m tall Diamantone which completed in 2014.
The 350,000sq m business district, where 30,000 people now work, is being developed by US investor Hines with local property investment firm Coima whose founder and chief executive Manfredi Catella described it as "one of the largest and most significant development projects in Europe".
Porta Nuova contains Italy's tallest building, Pelli Clarke Pelli's 230m Unicredit Tower, as well as Stefano Boeri's eyecatching Bosco Verticale resi towers whose balconies bristle with mature trees and creepers. A large area is given over to a park and open spaces – some designed by Gehl – including an elevated pedestrian route linking three plazas named after architects.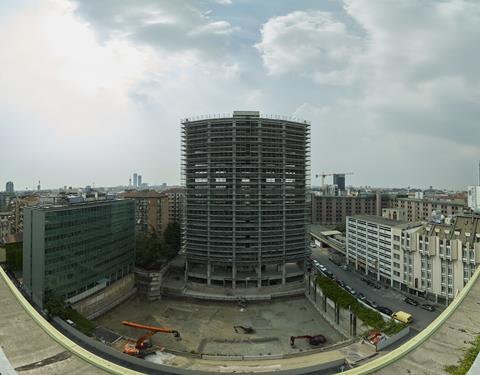 The latest piece of the jigsaw is the renovation of the 21-storey former Unilever HQ and its car park which take up a whole block on Via Nino Bonnet, less than 100m from the swanky Corso Como shopping street.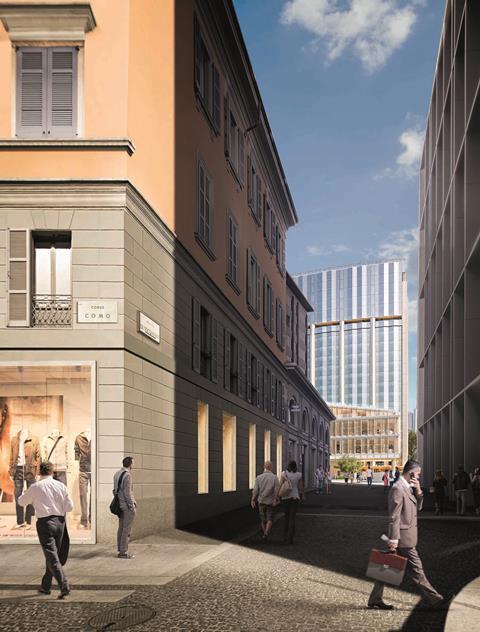 PLP founding partner Lee Polisano said: "Our first thought was to demolish everything and start again but more and more, given the situation on Earth and the pressures we face, using pieces of infrastructure and buildings that exist today for future generations is a very smart thing to do."
He added: "The site is an island historically closed to activity for many years and was quite an eyesore on the landscape, very hostile to the fabric around it. But the fabric around it is lively and vibrant – such as Corso Como and [Herzog & de Meuron's] Microsoft House – and creates energy. That energy is something we need to transfer into this place. It very much lacks that energy at the moment."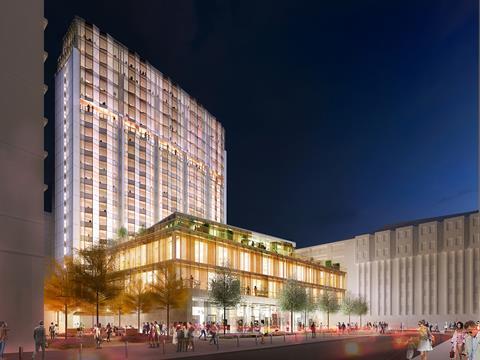 PLP's proposal for what is being branded Corso Como Place will introduce pedestrian and cycle routes through the site and a small public square to one side of a new four-storey pavilion containing offices, retail and cafes. It will be built using steel and plywood above a concrete base.
The tower itself is being stripped back to its core and will be reclad with faceted glazing in a bid to make it less monolithic. The façade will also gather solar power to fuel the building. A previous recladding in 2015 (pictured) was so badly received the owner struggled to find tenants.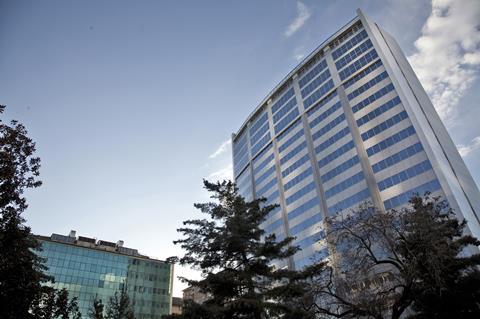 The scheme will use structural timber as part of a strategy to use natural materials. Lower floors will be demolished to create a double-height entrance atrium with a bamboo ceiling and stone floors. Tenants will have access to roof gardens and a recessed balcony along the length of the 15th floor. Above this level the interior recedes from the glazing which is detached from the concrete slab edge. The architect said this would give the upper levels a crown-like appearance, with the top two storeys extended from the existing structure using steel.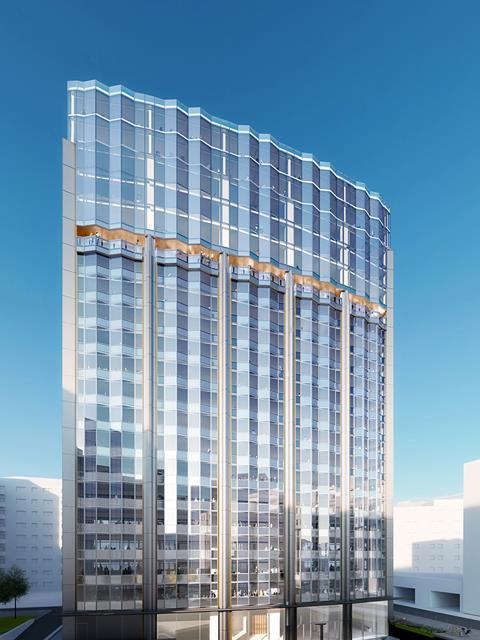 Catella said he wanted the tower to be one of the world's most sustainable and would target gold Leed and Well certificates. It will use 75% less energy than an average Milan office. A typical floor will have 65 desks in 765sq m.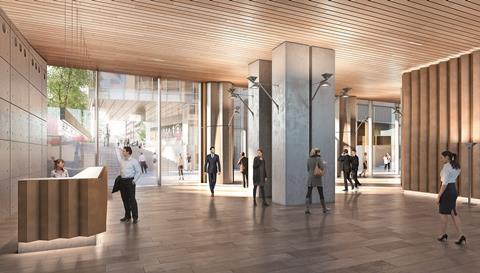 It will also use the Internet of Things to allow remote monitoring of elements such as air-con and lighting via 5,000 sensors. Occupants will be able to feed into this by using an app on their phones to indicate if they are too hot, for instance. Catella claims this will reduce sick leave by 15% and maintenance costs by 10%.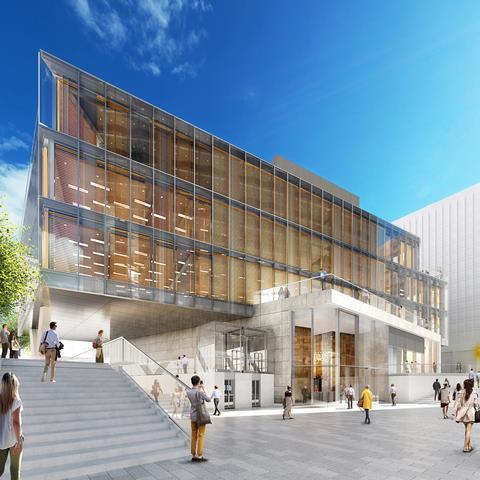 Catella, who described Coima's work at Porta Nuova as "contagious regeneration", set up a family foundation to support community and cultural projects that promote excellence in architecture and urban planning. It is based in one of the area's few historic buildings, a 19th-century railway depot.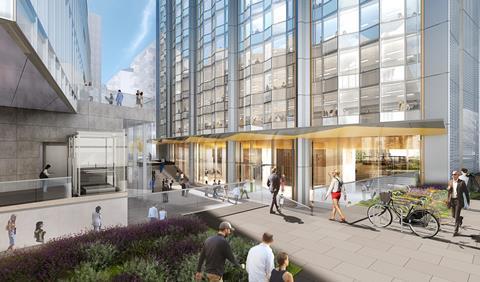 PLP, whose team is led by Milan-born partner Alessandra Luzzatto, is working with local executive architect Tekne. The project is set to complete in 2020.