Architects will contribute to next phase of university's £1.25bn transformation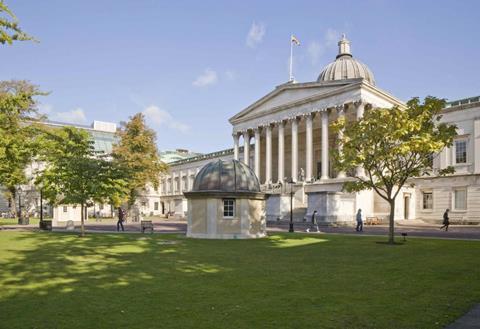 Architects including Penoyre & Prasad, Hawkins Brown and Sheppard Robson have been selected for the next phase of University College London's decade-long £1.25bn transformation programme.
Others incude BDP, BMJ Architects, Burwell Deakins, Nicholas Hare, PRP, Rivington St Studio, Twelve Architects and Wilson Mason.
They are among 34 built environment and construction specialists that have secured a place on UCL's estate construction consultancy framework, which will include the construction of the new UCL East campus in Stratford.
Firms from the worlds of architecture, project management, cost management, civil and structural engineering, MEP (mechanical, electrical and public health) engineering and building surveying have all been selected.
Since the start of its capital programme four years ago a number of UCL properties have been refurbished including 22 Gordon Street, home to the Bartlett School of Architecture; the new Wilkins Terrace and the Lower Refectory; Bentham House, home of the Faculty of Law; new high-quality teaching spaces at 1-19 Torrington Place, and the Kathleen Lonsdale Building, home of Earth Sciences.
UCL said it aimed to open the New Student Centre to students in early 2019.
Kevin Argent, UCL's director of estates development, said: "This is an exciting time for UCL Estates and our new partners, especially the SMEs, as we complete the first phase of our ambitious capital programme and enter the next phase which will include a large variety of projects."
Hawkins Brown led the transformation of the Bartlett.
The framework in full
Aecom; AKT2; AME Partnership; Arcadis; Artelia; Arup; Atkins; BDP; BMJ Architects; Buro Happold; Burwell Deakins; Carter Clack; Conisbee; Curtins; Elementa; Faithful & Gould; Fowler Martin; Fulkers; Gardiner & Theobold; Hawkins Brown; Hoare Lea; Kendall Kingscott; Mace; Nicholas Hare; Penoyre & Prasad; Peter Brett; Pick Everard; PRP; Rivington St Studio; Saunders Boston; Sheppard Robson; Turner and Townsend; Twelve Architects, and Wilson Mason.