Architect redraws application to add three new apartments to fourth-phase blocks
Eric Parry Architects is seeking consent to rejig parts of phase four of the Chelsea Barracks redevelopment to increase the number of new homes provided in the blocks from 88 to 91.
Planning agents representing developer Qatari Diar have submitted a new application to Westminster council covering design changes to three buildings originally consented last year.
In updated design documents submitted with the proposals, Parry said the additional homes would be created by redistributing space saved from an "oversized" two-bedroom apartment to create an additional home in one of the phase's three blocks.
Two new apartments would be created in another of the phase's blocks by reconfiguring existing layouts and trimming down two apartments originally proposed as five-bedroom homes to four-bedroom properties.
Elsewhere, the application also seeks to clarify façade design details for the phase-four blocks - including the shape of balconies - and alter provision for an energy centre included in the scheme.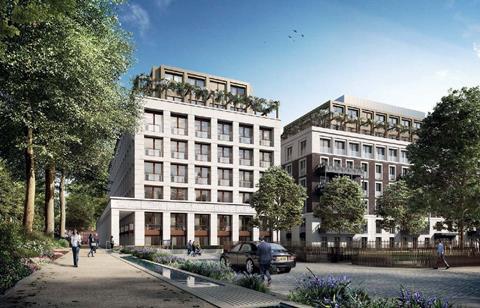 Eric Parry is one of a handful of practices working on the redevelopment, along with scheme masterplanner Squire & Partners, Paul Davis & Partners, Ben Pentreath & Associates, and Piercy & Company.
Qatari Diar won outline consent for the Chelsea Barracks scheme in 2011, and its current upper limit of homes is 448. The consent also includes a sports centre, a health centre, shops and other retail uses.
The developer, which is wholly owned by the state of Qatar, paid the Ministry of Defence nearly £1bn for the site in 2007.
It pulled Rogers, Stirk Harbour & Partners' original scheme for the site after opposition that included private lobbying against the scheme by Prince Charles, who called it "a gigantic experiment with the very soul of our capital city".