Even Prince Charles praised pumping station as 'witty and amusing'
Architect John Outram has welcomed the listing of his post-modern pumping station on the Isle of Dogs as a "happy birthday present" for his 83rd birthday.
The building, still in use, has been listed by the Department for Culture, Media and Sport at grade II* on the advice of heritage adviser Historic England.
It is the first building to be listed as part of HE's post-modernism project assessing late 20th century buildings that are beginning to "come of age". Buildings must normally be older than 30 years to be considered for protection.
Catherine Croft, director of the Twentieth Century Society, described it as a "turning point" for post-modern architecture, several examples of which have already been destroyed or damaged.
She said: "This is not the first post-modern building to be listed, but it is the first of its genre to be listed purely on its own merits without the presence of a threat.
"In a way it represents the advent of the post-modern style into the architectural canon which is an exciting and important moment."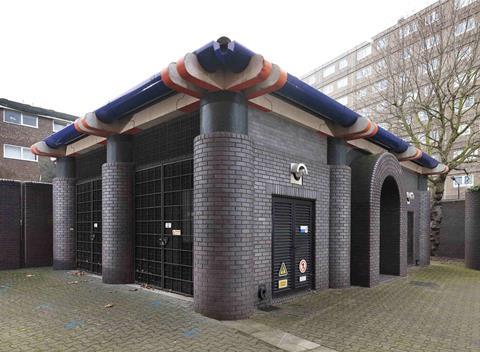 The Storm Water Pumping Station was built between 1986-88 for Thames Water as part of the redevelopment of east London's Docklands.
Outram nicknamed it the Temple of Storms and even the Prince of Wales called it "witty and amusing".
Outram said: "The oldest architecture I ever visited was the painted caves of 20,000-year old Lascaux. Decoration is the origin and essence of architecture. It can mediate, in the theatre of a built room or a built city, the epiphany of a meaning.
"I was told, in 1955, at the beginning of my life as an architect, that my medium was both to be illiterate and devoid of metaphysical capacity.
"My work has been a rebellion. I refused to live in a city designed by proudly subliterate haptics whose ambition was to reduce it to mere 'plant'. I aimed to invent that 'meaning' and confirm those epiphanic techniques.
"Thanks for this happy birthday present for my 83rd on June 21."
Roger Bowdler, Historic England's director of listing, said: "John Outram's pumping station was one of the most exciting buildings of the 1980s. Outram exulted in the panache and exuberance of classicism, and gave this utterly functional structure an exterior which is unforgettable."
Further post-modern listings would follow, he said.
But HE's thematic review of post-modernism came too late for Outram's Harp Heating HQ in Swanley, said Croft. It was demolished before HE could assess it despite efforts by the society to have it listed at grade II.
"The C20 Society remains concerned that buildings under 30 years old can generally only be considered for listing if they are both 'outstanding' and 'at risk' and that threat is often seen to mean demolition when less drastic alterations can be extremely damaging," said Croft.
Why we listed it, by Historic England
Post-modernism represents an important strand of late 20th-century architecture and cultural heritage. Now that these buildings are starting to come of age, and are over 30 years old, Historic England is assessing the most significant examples of the movement for listing – John Outram's pumping station is the first building to be listed as part of this project; others will follow.
The Isle of Dogs Storm Water Pumping Station was built between 1986 and 1988 for Thames Water. It is the first example of Outram's mature style and remains one of his best-known buildings. However, No1 Poultry in the City of London by James Stirling and Michael Wilford is still England's "youngest"listed building, a post-modern gem finished in 1998 and added to the National Heritage List in November 2016.
Outram's pumping station returns to the tradition of impressive municipal pumping stations which largely came to an end in the 1930s. Beacons of this tradition include Sir Joseph Bazalgette's richly fanciful Gothic Abbey Mills Pumping Station of 1868. Built over 100 years apart, Bazalgette and Outram's polychromatic pumping stations share an exuberant celebration of their utilitarian function; the earlier building christened a "cathedral of sewage", the later a "temple of storms".