West End redevelopment plans recommended for approval
Orms Architects' plans to replace a seven-storey 1960s block on London's Oxford Street with a significantly bigger structure are set for approval by Westminster City Council.
The practice's proposals for a corner site at the junction of the shopping Mecca and Wells Street will deliver a new 10-storey building with 40% more floorspace than the existing structure, and are the latest in a line of major projects at the eastern end of Oxford Street.
In January Orms won planning permission to demolish a different corner building in the area – Oxford House – and replace it with a new development with 50% more floorspace. Another nearby scheme by Hopkins Architects has now been endorsed by the city council three times following challenges from the Victorian Society to the authority's handling of the applicaiton.
The latest Orms scheme would see the demolition of 134-140 Oxford Street and 77-84 Wells Streeet, known as Wells House, and the construction of a new building that would deliver 14,444sq m of floor space, up from the existing buildings' 10,273sq m.
The proposals, drawn up for the Prudential Assurance Company, would primarily feature new office space, but the scheme also includes retail, restaurant and leisure uses.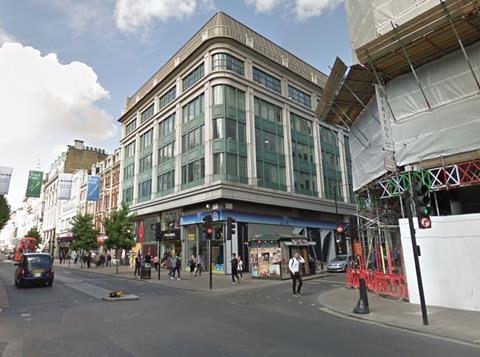 A report from planning officers to committee members said the proposals had been amended since they were originally submitted to retain nightclub use for part of the new building's basement. The decision followed a Greater London Authority consultation response that said that not to do so would be "unacceptable" under capital-wide planning policies designed to protect the night-time economy.
Recommending the scheme for approval, the Westminster officers said the increase of up to 3,570 sq m in office space was "welcome" and would contribute towards targets set out in the city plan. However, they noted that London Mayor Sadiq Khan had expressed concern that the proposals did not specifically indicate space allocations for start-ups and small- and medium-sized businesses.
Officers also observed that in design terms the proposed building was "significantly taller" than its neighbours, and that despite its upper storeys being stepped back from Oxford Street and Wells Street, it still represented a "major increase in height and bulk".
"In many locations, such a building would be considered inappropriate and unacceptable in urban design and conservation terms," they said.
"However in this location outside a conservation area and given the relatively low visual impact of the upper floors in views from street level, this massing is considered acceptable.
"The design of the facades is of high quality and will be an acceptable addition to the streetscape of this part of Oxford Street."
Officers added that the additional height of the new building was most visible at street level in long views from Berwick Street, to the south.
Members of Westminster's planning committee meet to consider the proposals at 6.30pm tonight.
According to Orms, the current corner building was designed by Ronald Ward and Partners Architects in the 1960s and reclad as part of an early 1990s redevelopment.