If the director is serious about 'healing the nation' he needs to address that with a more diverse procurement process, writes Elizabeth Hopkirk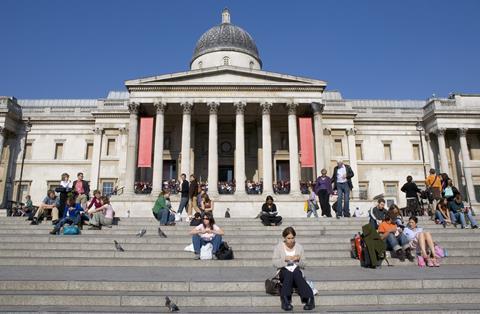 The National Gallery's announcement of an open competition for an architect-led team to design a £30m project is a rare burst of sunshine in this long winter of covid. The chance to get your hands on two of the country's most important buildings is a mouthwatering opportunity.
When the news broke after a midnight embargo there were excited emails between engineers and architects saying, "Have you seen this?" You can almost hear the sharpening of pencils, although organiser Malcolm Reading tells us no design work is required. There won't be too many architectural competitions of this size from cultural institutions in the foreseeable future.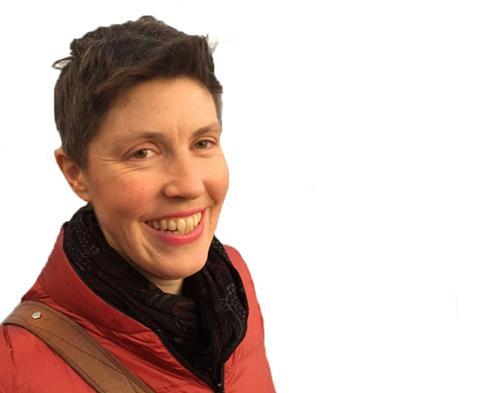 The brief is – what else? – to "improve the visitor experience", including remodelling Venturi Scott Brown's Sainsbury Wing entrance and the way the western extension links with the main building along Trafalgar Square. The gallery also wants to create a research centre and perhaps sort out the circulation problems endured by the worst-connected back rooms, all to mark its bicentenary in 2024.
Most ambitiously of all director Gabriele Finaldi wants the project to be "part of the healing of our country" after the catastrophic effects of covid-19 on the arts.
Talking of healing, the Sainsbury Wing only exists because of a particularly notorious skirmish in the style wars. Prince Charles' 1984 speech to the RIBA likening Ahrends Burton Koralek's competition-winning extension to "a monstrous carbuncle on the face of a much-loved and elegant friend" sparked a public furore. The project was refused planning and, only after the Sainsbury brothers stumped up a lot of cash, a new competition was launched with the results we can see today.
Perhaps Charles did not know that his forebear William IV – apparently in his last recorded words – derided the elegant friend as a "nasty little pokey hole". The monarch was not the only detractor of William Wilkins' winning entry in the 19th-century competition for a national gallery. Thackeray called it a "little gin shop" of a building, insufficiently imposing as the focus of views across Trafalgar Square. More recently the architectural historian John Summerson mocked its roofline as resembling "the clock and vases on a mantelpiece, only less useful".
Where is the clause requiring entrants to include young and diverse firms on their teams?
Wilkins' design was hamstrung by a site as tight as its budget – only one room deep thanks to a workhouse and barracks behind. These were eventually demolished and the building has been added to over the centuries more or less successfully. Among the most recent interventions, Jeremy Dixon and Ed Jones proposed street-level entrances either side of the portico. Only one was built, and their idea of a grand staircase cascading down to the newly pedestrianised north terrace of Trafalgar Square also never saw the light of day. Notwithstanding Venturi Scott Brown's beautifully detailed wing (listed at grade I in 2018), the National Gallery has always suffered from its hopeless lack of a proper entrance. If this is truly a chance to resolve that, it is to be welcomed.
Several commentators have rightly questioned the morality of spending £30m on a new door for an art gallery in London when cultural organisations up and down the country are going to the wall, but it's not as binary as that. It is not as though the National Gallery has £30m sitting in the bank which it could give away. It will have to convince potential donors that its plans are worth supporting. It has some major advantages, of course, in reaching out to government, the lottery, philanthropists and punters, but to some extent it will be fishing in a different pool from your local arts centre.
To prove itself worthy of our cash, the National Gallery must go a lot further than the worthy but predictable promises made in yesterday's announcement: a national outreach programme to accompany the build and a requirement that foreign teams have a UK partner.
This is our national gallery, announcing the UK's first big cultural project since we severed ourselves from Europe. It is a chance to signal the bold new way Britain intends to run procurement in the sunlit uplands of our sovereignty. To say that we value creativity and levelling-up more than paralysing caution and box-ticking.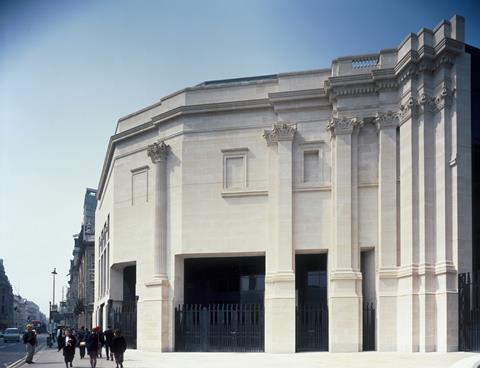 Instead it seems to be business as usual. In some respects it is not a bad contest with £10,000 for each shortlisted team, for instance, and a bespoke contract. But to qualify, the lead architect must have done at least two civic or cultural projects of "national, if not international, distinction" in the last five years and every member of the team must have £10m of PI cover.
These aren't unreasonable demands for a project of this significance, but where is the clause requiring entrants to include young and diverse firms on their teams? This could easily be done with a maximum turnover threshold of, say, £1m, and a PI exemption. Better still would be something really imaginative to help small practices led by under-represented social and ethnic groups to get a piece of the action. Enfield council is trying to do that at its £6bn Meridian Water regeneration project.
Procurement campaigner and architect Russell Curtis, who advised the City of London on its Finsbury Circus competition which had a maximum turnover stipulation, said of the National Gallery: "They're asking for an awful lot. Lobby interiors, landscaping, front gates – any one of those packages would be a brilliant opportunity for a small practice working alongside a large, experienced architect and would make for a much more compelling project."
If the National Gallery is not prepared to bet the whole £30m on an untested practice – and there is plenty of evidence that doing just that can lead to the best results [insert obligatory Pompidou Centre reference here] – it should feel a responsibility to share out some of the riches through enlightened procurement that would set a great example.
That, far more than the project itself, is how a national cultural organisation can help heal the nation through art.