The stories of four pioneering women from South Asia should provide inspiration to all architects, writes Sumita Singha
Ethel and Bessie Charles were born and spent their early childhood in Calcutta in colonial India and would go on to create history as the first woman associates of the Royal Institute of British Architects in 1898 and 1900 respectively. Ethel Day on 5th July is celebrated by architects to mark the contribution that women make to our profession.
Ethel Day comes shortly before another important date in the calendar – South Asian heritage month. The theme for this year's programme of events is 'Stories to tell'.
This provides me with a brilliant opportunity to recount the overlapping lives of four incredible architects – Perin Mistri, Minnette de Silva, Urmila Eulie Chowdhury and Yasmeen Lari.
These four women from South Asia, were all working in four different styles of architecture, but are united in their common approach of 'belonging to the place'.
Perin Jamsetjee Mistri
Perin Jamsetjee Mistri, born in 1913, was the first woman to qualify as an architect in India (British India at the time encompassing the entire subcontinent). She became a member of the Indian Institute of Architects, which was affiliated to the RIBA.
Born to a Parsi family of engineers and master builders ('Mistri' meaning tradesperson) her father, Jamshedji Pestonji Mistri, founded the architecture practice of Mistri & Bhedwar (later Ditchburn, Mistri & Bhedwar), specialising in industrial Art Deco architecture. After completing her secondary education in Croydon, UK, she enrolled at the prestigious Sir Jamsetjee Jejeebhoy (J.J.) School of Art in Bombay (now Mumbai) and obtained her diploma in architecture in 1936, aged 23.
Her works included public, residential and industrial buildings, such as the Khatau cotton mills in Borivali and St. Stephen's Church at Cumballa Hill. She practised for almost half a century as a partner in her own firm before her death in 1989.
Minnette de Silva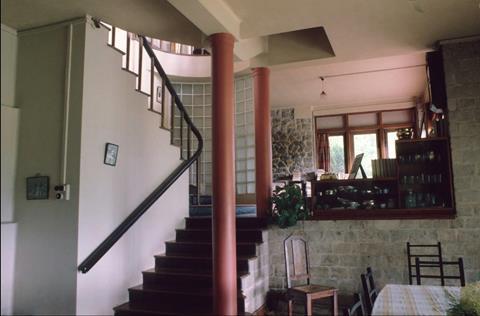 During the 1940's as the Second World War raged, a young woman from Ceylon (now Sri Lanka), Minnette de Silva (born in 1918), came to work at Mistri & Bhedwar. She hadn't completed her schooling due to family issues and so, despite her keenness to study architecture, could not enrol at the Sir J.J. School of Art.
Instead, while working during the day, she studied architecture at a private academy in the evenings, living on just one meal provided at the practice. Perin Mistri and her brother, Minoo, befriended her and Minoo later introduced Minnette to Le Corbusier when they visited Paris together.
De Silva enrolled at the Government School of Architecture in Bombay but was expelled for attending a Quit India march and not apologising for it. Undeterred, she worked for seven months in Bangalore for Jewish refugee Otto Koenigsberger, the chief architect and town planner of Mysore, in 1944.
Thanks to a chance meeting with the UK's Parliamentary Secretary to the Board of Education during a visit home, she was invited to sit the special RIBA exams for returning students over the age of 30 at the Architectural Association. Minnette de Silva became an associate of the RIBA in 1948 – 50 years after Ethel Charles.
That year Sri Lanka became independent, and she returned to start her practice from her parent's home. Like her own Eurasian heritage, de Silva's architecture borrowed from Sri Lankan and Western contexts – her approach being a clear precursor to what later became known as Critical Regionalism.
She was also able to help local artisans, particularly women, through her work and advocacy. She was an early proponent of participatory design and also taught at Hong Kong in the 1970's when work dried up in Sri Lanka. Returning back to Sri Lanka just three years before the start of the Civil war, she was unable to revive her practice and died in 1998.
Urmila Eulie Choudhury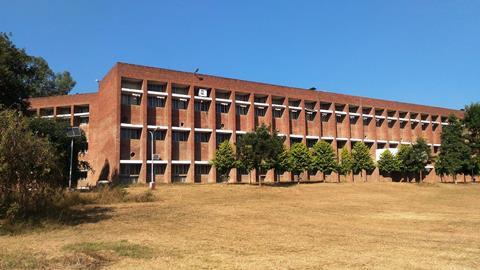 Unlike BV Doshi, the RIBA Royal Gold medal winner of 2022, who had worked with Le Corbusier, the name of Urmila Eulie Choudhary does not come up in histories of the period at all. But in fact, Le Corbusier's work on Chandigarh in the 1950's would not have been completed without her help as she was the mainstay between Le Corbusier, Pierre Jeanneret and the local Indian architects and administrators (fluent in French, she was able to translate some of Corbusier's instructions and writings into English).
Jane Drew is referred to in the design of buildings at Chandigarh, but Chowdhury designed many buildings there too – the Home Science College, the Women's Polytechnic and ministerial residences. She was also the first woman chief architect of both states of Haryana and Punjab, and worked on the second stage of the Chandigarh masterplan. She wrote about her experiences of working with Le Corbusier in a publication titled Those Were The Days.
She also became the director of the Delhi School of Planning and Architecture. Chowdhury's design was cognizant of the local climate, materials and culture, and shifted consciously from the Modern style to fit with the Indian context. She even adapted Jeanneret's furniture for the Indian physique.
She retired from public service in 1981 and then worked on her own in private practice in Chandigarh until her death in 1995.
Yasmeen Lari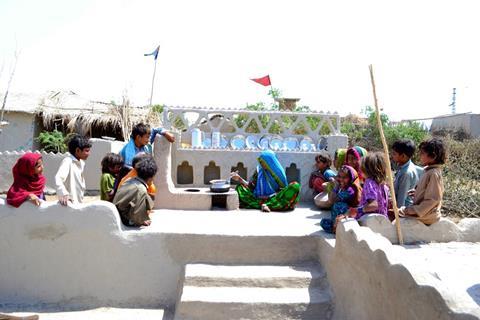 In the 1960's, another young woman, Yasmeen Lari (born 1941 during World War Two), from Pakistan, who had studied architecture at what is now Oxford Brookes University, returned to start her own practice in Karachi. She was just 23.
She became Pakistan's first woman architect and was elected to the RIBA in 1969. She designed housing, banks, and hotels in the Brutalist style. Later she and her husband founded the Heritage Foundation of Pakistan to promote understanding and conservation of historic buildings.
Lari retired in 2000 from architectural practice. But after seeing the devastation caused by floods and earthquakes, she restarted designing, this time for the poor and displaced. Using local materials such as earth, bamboo and lime, she facilitated the construction of thousands of zero carbon, flood proof homes and community centres.
Like de Silva, Lari's work extends to advocacy and training for women. She designed a fuel-efficient and affordable chullah (stove). Her stove won a World Habitat award that same year. Lari's work has been recognised with several awards – the Fukuoka Prize for Arts & Culture (2016), the Jane Drew Prize (2020), an honorary degree from the Politecnico Di Milano (2021) and the RIBA Royal Gold Medal (2023).
The importance of stories
The work of these women architects from South Asia is also particularly significant amidst today's climate and resource crises, as several of them contributed to a better understanding of climate responsive and environmentally sustainable design.
It was Minnette De Silva's wish to write a book not only about Asian architecture – the subject she was teaching at Hong Kong – but also about Asian women architects. Although she wasn't able to do this, she did manage to put together an account of her own life and works, illustrated with newspaper cuttings, photographs, and memorabilia.
She wrote it two years before her death, around the same time as she finally received the Gold medal from the Sri Lanka Institute of Architects. 500 copies of that book, The Life and Works of an Asian Woman Architect, were published after her death.
Stories are powerful! And stories of the struggle and achievements of women architects, despite the difficulties they faced, are important to know about, be inspired by and to aspire to for all architects.
Postscript
This article was written by Sumita Singha OBE as part of South Asian Heritage Month (18 July to 17 August).
She is an award-winning architect, academic and author, who studied architecture in New Delhi and now works in the UK.
She founded RIBA's equality forum, Architects for Change, is a past chair of Women In Architecture. She is currently a trustee of the RIBA Board and Commonwealth Association of Architects. She is the author of many books, including the forthcoming, Thrive: a field guide for women in architecture, RIBA Publishing, 2023.