New application reduces theatre seating but boosts commercial space for £110m arts complex
Rem Koolhaas' practice OMA has submitted revised proposals for the landmark Manchester arts venue that it designed for the city council on part of the former Granada TV Studios site.
Its original proposals for the £110m The Factory venue, named after the city's legendary Factory Records label – home to Joy Division/New Order, Happy Mondays and others – cleared planning in January last year.
But a new application drops the seating capacity of the development's theatre element, changing the shape of its vinyl-clad exterior in the process; boosts the size of the venue's orchestra pit; and increases the scheme's overall commercial element.
Supporting documents for the application said that the materiality of the theatre – arguably the proposals' most striking element – was unchanged, although the drawings indicate a difference in its angular form from the consented proposals, and its volume is smaller.
The scheme approved last year included a 2,300 standing-capacity theatre and a separate 5,000-capacity warehouse space for "immersive" events on part of the former TV studios site. While the warehouse section's capacity remains unchanged in the revised application, the theatre capacity is being dropped to 2,090 for standing customers, and from 1,600 to 1,520 for seated guests.
The design and access statement supporting the revised proposals said the capacity had been reduced following a review with national theatre operators who would be working in partnership with venue operator Manchester International Festival.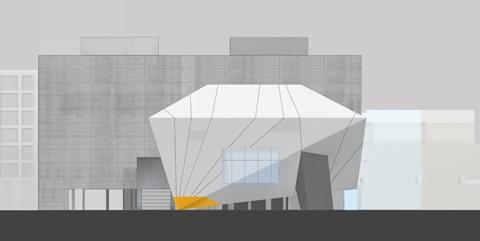 "This reduction provides a more intimate relationship between audience and performers and a more appropriately scaled, improved theatre 'house', chiming with this key sector advice," it said.
"Due to the complex inter-relationship between elements within the theatre, it was not possible to simply lop off the seats from the interior configuration, and shrink the envelope, OMA proposed that the theatre be re-examined 'back to basics', in keeping with the original concept presented during the design competition."
Elsewhere, the capacity of the theatre's orchestra pit increases from 60 to 80, while the retail floorspace for the scheme increases from 13,400sq m to 13,750sq m. The revised proposals also include the removal of glazing from the north and south facades of the warehouse section, on the grounds that "90% of the time the glass would need to be blacked out" for performances".
Like the consented incarnation, the proposals will still require the demolition of the site's current Starlight Theatre, existing workshop and other structures, and alterations to the grade II-listed Colonnaded Railway Viaduct. However the new application said the revised proposals would be less intrusive.
Manchester council has not set a determination date for the revised application.