Architect says auction house/museum/hotel hybrid is a 'Chinese puzzle' of spaces
Büro Ole Scheeren has announced the completion of a huge cultural centre in downtown Beijing designed for China Guardian Auction.
The Guardian Art Centre delivers 56,000sq m of new space split between galleries, conservation facilities, a custom-built auction house, restaurants, a 120-room hotel and event areas over eight above-ground and five below-ground floors.
Built on the Chinese capital's most famous shopping street, the centre – commissioned in 2011 – is two blocks from the Forbidden City, Beijing's Unesco World Heritage Site wooden palace complex which dates back to the 15th century.
Scheeren, a former OMA partner, said the Guardian development was "not a hermetic institution" but an acknowledgement of "the hybrid state of contemporary culture" that had been strongly influenced by elements of local vernacular architecture.
"It is a Chinese puzzle of interlocking cultural spaces and public functions that fuse art and culture with events and lifestyle," he said.
"The building's lower portion is a series of nested stone volumes that echo the scale and materiality of the adjacent traditional hutong courtyard houses, while a floating glass ring above exemplifies Beijing's status as a global metropolis."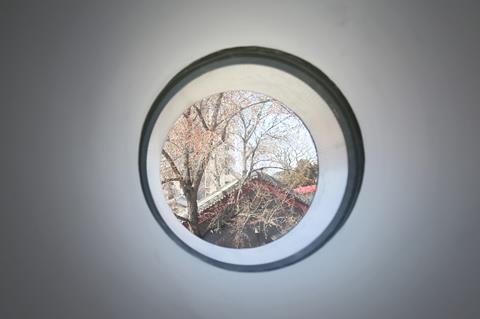 Scheeren said the significance of the site's history had led to dozens of architectural designs for its redevelopment being rejected over the past two decades by the Beijing planning bureau and preservation commission before his practice gained approval for its design.
He said the structure had been designed to create a "very understated sense of monumentality", with its upper volume reflecting the contemporary city and the symbolism of its brick representing adjacent hutong homes and the common people "in a statement of humbleness in proximity to the Imperial Palace, the Forbidden City".
At the heart of the building is a 1,700sq m column-free exhibition space, capable of offering different configurations for shows, events and auctions.