Thai skyscraper features glass-floor observation deck that protrudes over building's edge
Büro Ole Scheeren has completed a 77-storey tower in Bangkok that is Thailand's tallest building.
The milestone was marked with the opening of MahaNakhon's top-floor observation deck, which features a 79sq m glass extrusion dubbed the "Sky Tray" that gives vistors a vertigo-inducing view down to street level.
Created for Pace Development, the 314m tall building's pixelated design is intended to connect to to the surrounding urban fabric, rather than overpower it.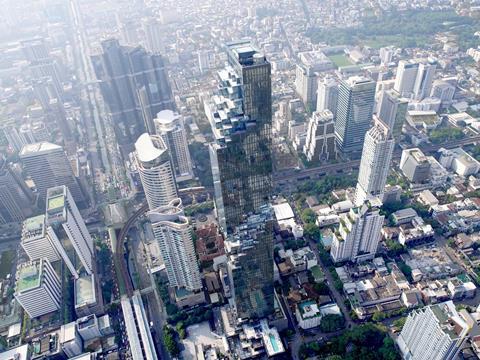 Scheeren said that from a distance the building evoked a sense of being unfinshed, while the design's geometric "erosion" allowed for the creation of terraces, balconies, "floating living rooms" and apartments with sweeping views that merged the tropical exterior with their interiors.
The building includes 200 homes and serviced apartments and a boutique hotel with 150 rooms.
When Pace commissioned the building Scheeren was partner in charge at OMA.