Property owner confirms two blocks will be re-faced in wake of Grenfell Tower tragedy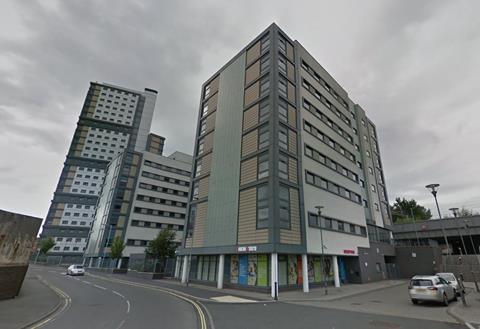 The operator of a large-scale student-housing scheme in the West Midlands has confirmed it will completely reclad a significant proportion of the development because of fire-safety fears.
A 10-storey block and an eight-storey element at Liberty Living's Liberty Heights development in Wolverhampton have been vacant since last summer following concerns over aluminium composite material cladding in the wake of the Grenfell Tower fire, which killed 71 people.
Now Liberty Living – which manages around 23,000 student rooms in 19 towns and cities across the UK – has confirmed it is stripping ACM cladding from the blocks and will replace it with solid aluminium cladding panels.
The scheme was designed by Manchester-based O'Connell East Architects for Victoria Hall Construction and secured planning permission in 2008. It includes a 25-storey tower, which is not affected by cladding issues.
A statement from Liberty Living said it was hoped work to reclad the buildings would be completed by September this year.
"In August we closed two blocks at Liberty Heights in order to upgrade the buildings' fire safety measures," a spokesman said.
"External works are underway and we look forward to reopening the refurbished buildings in time for the new 2018 academic year."
BD understands that only around 20% of the affected blocks had ACM cladding.
BD approached O'Connell East Architects for a comment, and in particular for guidance on whether it had been involved with specifying the cladding used on the blocks.
It had not responded at the time of publication.