Save's legal challenge thrown out after civil servants 'accidentally change government policy'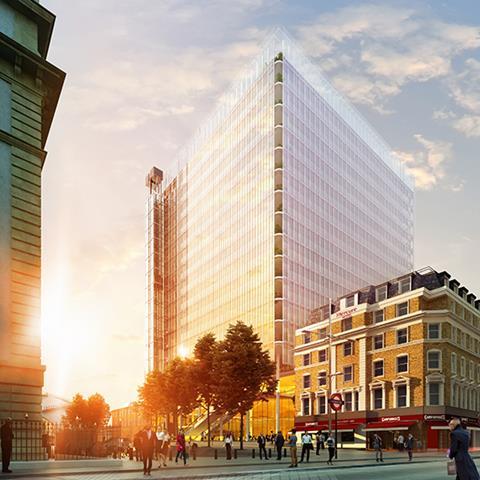 Save Britain's Heritage is threatening to appeal after the High Court rejected its legal action against Renzo Piano's Paddington Cube.
Save was challenging the secretary of state over his refusal to call in the controversial proposals for public inquiry.
The conservation group's argument centred on the minister's refusal to give a reason for this. Save's barrister, Richard Harwood QC, pointed out that the DCLG's practice of not giving reasons for the refusal of a call-in was in breach of a published policy announced in Parliament in 2001.
But the court heard that the DCLG's own officials were not aware of the policy and had essentially changed it in ignorance during an earlier, unrelated court case.
Yesterday Mrs Justice Lang dismissed Save's case.
But the charity's executive president, Marcus Binney, is furious and said they were giving "serious consideration" to taking the case to the Court of Appeal.
He said: "In this case, scandalously, a published policy to give reasons, announced to Parliament, has been overlooked and seemingly changed by civil servants without informing ministers.
"The judge concluded that as decisions have been made on this basis since 2014, it can now be considered established policy. It is further remarkable that government officials only explained the change of policy in a late witness statement."
Harwood had argued that the minister's ability to call in major schemes was an important safeguard in the planning process and that a duty to give reasons would improve understanding of public decision making. This was, he argued, particularly important as the proposals – involving major demolition and contentious development – conflicted with the statutory duty to preserve or enhance the conservation area and setting of listing buildings.
Henrietta Billings, director of Save, said the judgment sent out a "very negative message about open and accountable decision making at the very highest levels of government".
"We continue to believe that ministerial decisions must stand up to robust scrutiny. We are now considering our legal options," she said.
Sellar's Paddington Cube, which won planning in August, is still subject to a judicial review by St Mary's Hospital which is concerned about its impact on ambulance movements. It would replace a red-brick Edwardian sorting office between the hospital and Paddington Station.
A DCLG spokesperson said: "We welcome the judgement and are we considering it in detail."
.